A creative marketing campaign that let us bring out our inner kid.
ParentSavvy.com is a local resource for child health and parenting information with a demographic of families with young children, making the Omaha Children's Museum a great partnership. Our approach to the business relationship between ParentSavvy and the Omaha Children's Museum was to play off one another's strengths and leverage both online and in person opportunities to promote one another's brand. This cross-promotional strategy creates a unique opportunity where we can capture kids' attention and in turn, capture the attention of parents leading them to the ParentSavvy.com website.

---
Kid-Sized Cutouts
Interaction and play are two key elements the Children's Museum uses to educate visitors. One of our cross-promotional tactics is to provide the museum with kid-sized cutouts that compliment their current exhibits. For instance, we created mermaids and pirates, dinosaurs, paleontologists, animals and construction workers.
Our designers repurposed the iconic ParentSavvy dinosaur and added the explorer to create a kid sized cutout complete with an opening for a child to insert their face — creating a photo opportunity that's clearly branded with ParentSavvy.com. The results have been countless photos of children (and parents!) posted to social media and shared among friends and family.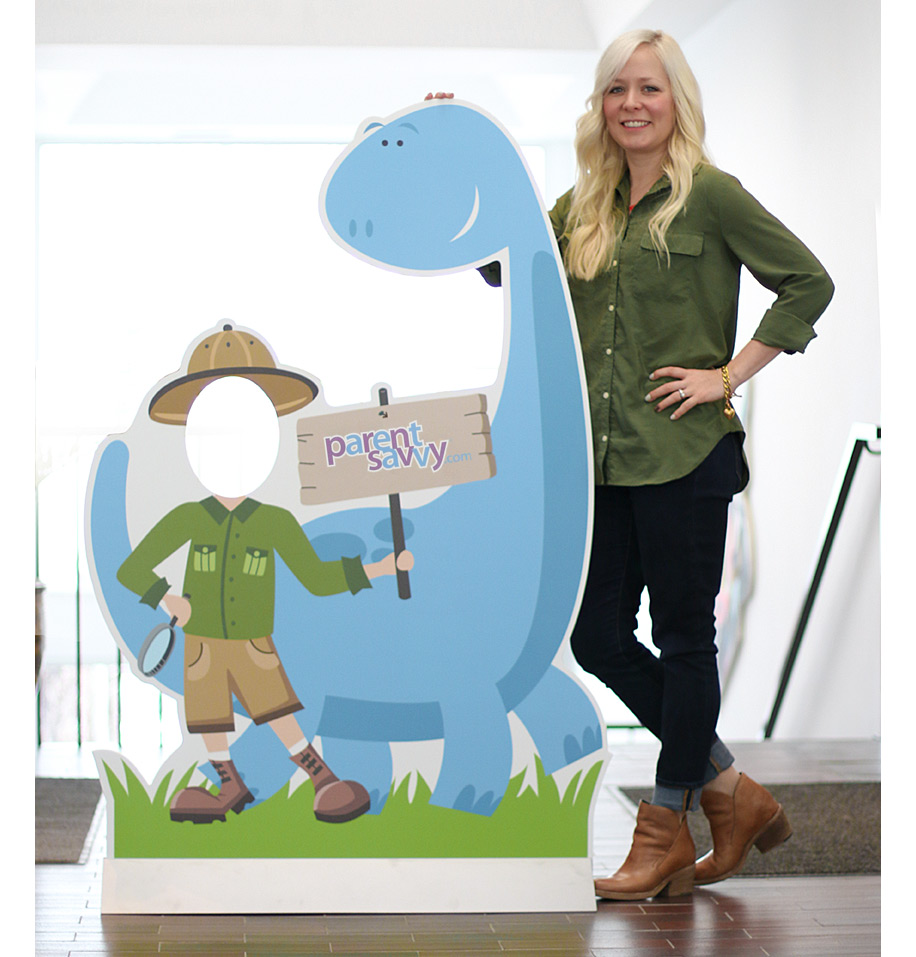 ---
#NameOurPals Coloring Sheets
The #NameOurPals promotion took place in March 2015 at the Omaha Children's Museum. We created coloring sheets that kids could color and write their name suggestion for the dinosaur. We also posted the coloring sheet online so that parents could download it at home. The newly named dinosaur also acts as a "guest blogger" on ParentSavvy.com, writing about what it's like to be a dinosaur throughout the promotion.
We asked parents to take a picture of their kids' coloring sheets and naming suggestions and post the photos along with the hashtag #NameOurPals to their various social media channels - Facebook, Twitter and Instagram. The Omaha Children's Museum also offered to promote the campaign via their social channels and within the museum.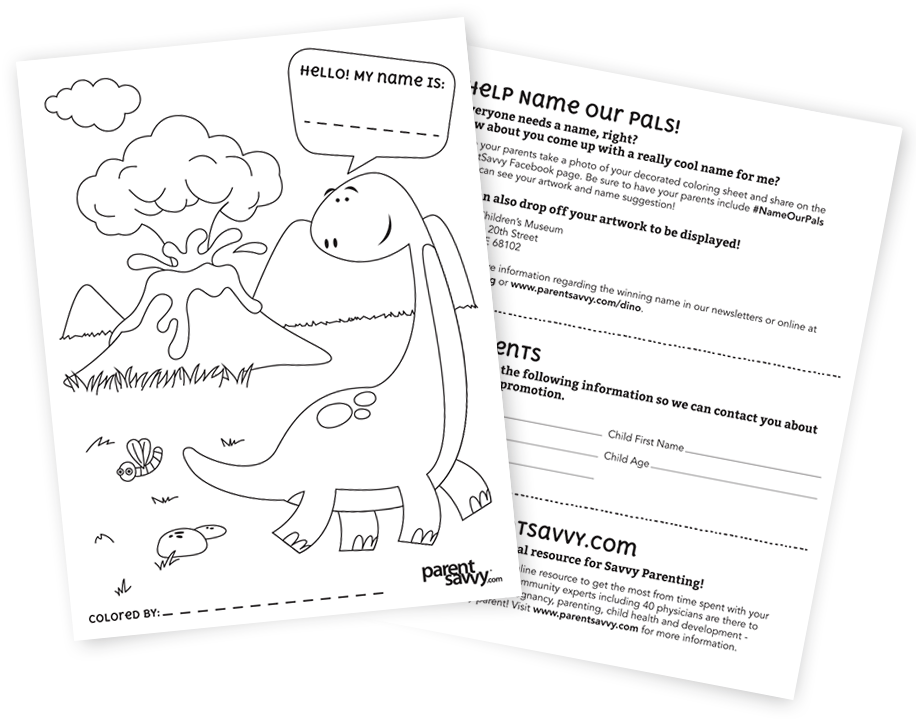 ---
Educational Sponsorships
The Omaha Children's Museum helps prepare preschool children for kindergarten through their Kindergarten Readiness program. More than 5,000 children participate in the program each year. We worked with Omaha Children's Museum to position ParentSavvy as the premiere sponsor of the program. Each child receives a drawstring bag that includes a variety of goodies. This was a great opportunity for ParentSavvy to interact not only the children but parents as well. We created a brochure on preparing your child for school, included a set of branded ABC flash cards, ParentSavvy coloring books and a pencil case. Feedback from parents has been very positive.
Along with this sponsorship, we were able to secure prominent placement on the museum's entry kiosk, placement on their outreach vehicle, mentions, logos and access to the museum for special events (more to come!).