<![CDATA[
Traditional backlinks, also called inbound links, are any URL links to your website that appear on another website.
According to Google, a link from page A to page B gets interpreted as a vote by page A for page B. Votes cast by pages that are themselves "important" weigh more heavily and help to make other pages "important." In other words, backlinks can be thought of like a stamp of approval from one site to another.
In the early days of browsing the web before the emergence of search engines like Google, Bing, and Yahoo, backlinks were essential to navigating from page to page. However, backlinks transformed into one of the most critical, and highly manipulated, aspects of early SEO.
How Do Backlinks Impact SEO Today?
Google evaluates not only the amount of backlinks to your site across the web, but the quality of the linking sites as well. Gone are the days of propping up link farms to unfairly boost the search results of one domain.
Today there are even detailed methods for telling Google exactly how to interpret the links on your page. Backlinks that are useful but not entirely trusted can be labeled as "nofollow" or completely removed in the event that their presence penalizes your site's search rank.
In the last few years, Google has made a conscious effort to enhance user experience across the web by guaranteeing better search results for sites that are optimized for human interaction. This places great importance on a site's usability, structure, and an even greater importance on the relevancy and value of a site's content.
In fact, Google's own webmaster trends analyst, John Mueller, has stated that an SEO strategy that focuses solely on link building will probably hurt more than it will help.
It is important to remember that the algorithm focuses on everything from traffic to social interactions and sharing to content authorship. As the SEO landscape changes, more businesses are adopting new methods, both online and off, for earning and building links appropriately.
Google's recommendation for naturally increasing the popularity of your site: "Master the art of making announcements and being recognized online."
7 Effective Link Building Strategies
1. Blogging and Digital Publishing
Creating valuable, original content for your website's blog or news section on a regular basis is the best method for increasing the number and quality of your backlinks.
Every time you hit that publish button, it's like casting a great big fishing line out into the ocean of content that is the internet. If readers determine value in the information you have provided in your posts, they will link them, share them, respond to them, and more people will see them.
While many brands already keep a simple blog or news section in place, some are going the extra step to provide larger bits of content in the form of ebooks or digitally published materials. If your approach involves offering these larger bits of content as downloads, be sure to take advantage of providing any relevant backlinks within the PDF's themselves.
An offline experience viewing your PDF can suddenly become an interactive learning session that directs readers online to other related topics on your site.
2. Guest Blogging for Related Sites/Publications
Do you have the opportunity to write for another site that produces regular content that is relevant to the content on your site? Linking relationships between sites that provide valuable, original, and relevant content can be advantageous for both parties.
However, don't overdo it. Google warns that there are an abundance of sites on the web that use guest blogging in some very excessive and spammy ways.
"There are still many good reasons to do some guest blogging (exposure, branding, increased reach, community, etc.). Those reasons existed way before Google and they'll continue into the future." ~ Matt Cutts
Similarly, a guest post for an industry-related print publication that features a link to your site offers an effective, offline approach to pointing users from a very selective audience to your site.
3. Social Interactions & Sharing
If you are producing regular content on your site's news or blog section, links to that content should absolutely be shared across your company's social media platforms. Encourage your employees to become part of the online conversation and share branded content to their followers too.
Be sure to fill out all social media profiles completely with all necessary contact information such as phone numbers, addresses, and of course, URLs.
Identify which pieces of your content fall under the category of evergreen materials. Evergreen content is always usable and always relevant, meaning there are many opportunities for reposting and repurposing it.
While covering timely events and trending topics should always be part of your content strategy, don't forget about the power of repurposing older content that still provides value for readers who are just discovering it for the first time.

Also assess your site's Google Analytics for more insight on which social media platforms are driving the most visits to your site. These numbers should give you a good idea of where and when links should be shared to your followers.
4. Contests & Giveaways
Contests and giveaways are extremely popular on the web these days. The trick is to find ways to make your contest much more than just a random drawing or giveaway.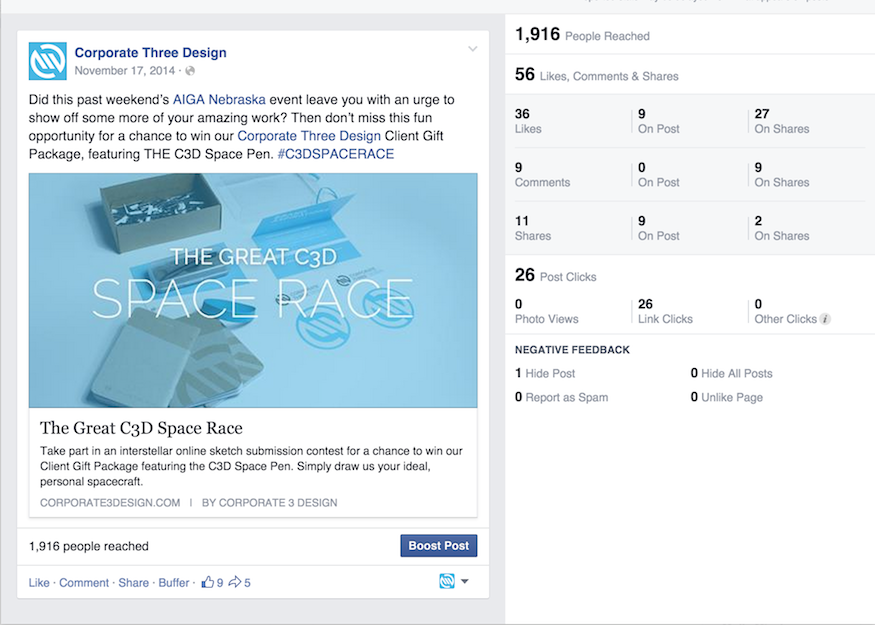 Back in November of 2015, we hosted The Great C3D Space Race and asked our fellow creatives to produce sketches of their ideal spaceships for a chance to win a C3D Space Pen.
Crowd-sourcing sketches provided us with numerous pieces of "micro-content" that were just asking to be shared on social media sites like Twitter and Facebook with (you guessed it) links right back to our site to view the other winners.
5. Sponsoring Community Events
ecoming involved in the offline community through the sponsoring of local events in your area is another effective method for placing your company's brand name and URL in front of an audience of potentially interested parties.
Back in November of 2015, we supported the efforts of AIGA Nebraska in their annual design competition, Show. If you visit the site, you'll notice our logo with a backlink to our homepage within the footer next to all the other sponsors – not to mention all the social media posts and direct mail thanking the sponsors of the event.
Considering how well-attended and publicized the event was across the entire state of Nebraska, it provided us with a great opportunity for to grow our relationship and recognition with the local design community.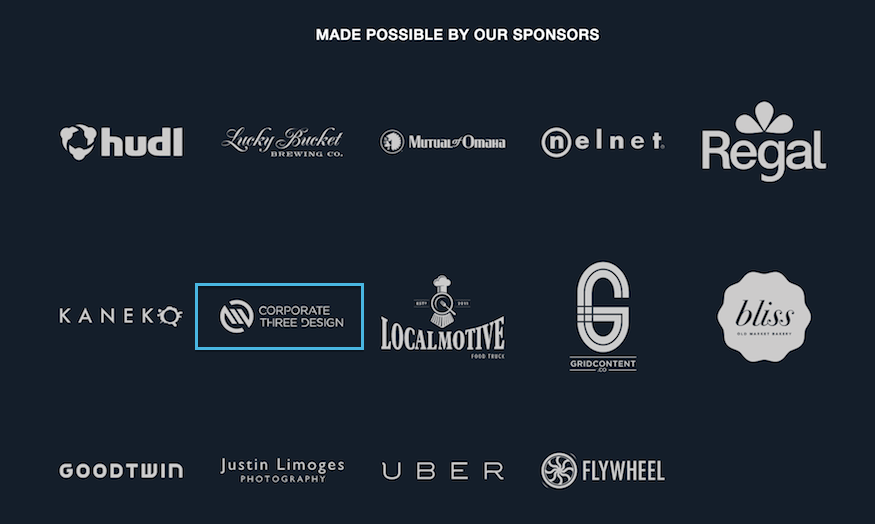 6. Customer Reviews & Testimonials
Many businesses overlook the power of reviews and testimonials on the web. What can start out as a simple client request can become a profitable marketing tactic for attracting new business. In today's market, the power of referrals from friends and family members is as strong as it has ever been.
Ask your clients to consider posting reviews on sites like Yelp, Google+ or go the extra step and produce video testimonials that can be shared across the web. Also be sure to check that your business' information (URL, contact info, address) is being displayed correctly.
7. Internships & Job Opportunities
Backlinks can be effective for attracting more than just customers and new business to your website. Featured links to your site in the right places can also help attract the right people to grow your business from the employee side. Our summer internship program began last summer and attracted the attention of many Omaha area developers and designers.
In fact, I would have never started working at Corporate Three Design if I hadn't stumbled on a link to our internship application on the C3D Twitter, Creighton's communications department website, or the poster promoting the internship program on campus. Building relationships with local schools and creative learning centers gave C3D the opportunities to discover interested parties and identify creative talent in the area.
Does your website show up in organic search results? Renew your focus on search engine optimization tactics to become a known competitor in your industry or local market.