<![CDATA[
Since 1932, Lumbermen's Hearth and Home has supplied high-end building materials to the home construction, interior design and outdoor hardscape trades.

As Lumbermen's sought ways to grow it's market share they embarked on targeting the general public while making their showrooms more inviting and accessible.
In 2011, C3D was charged with giving the company a new website design with more of a retail look and feel as well as improving it's functionality and social media presence.
Recently, after much discussion and planning the decision was made to also rename and rebrand Lumbermen's to better communicate it's primary offering – inspire new home planning, fireplace facelifts, outdoor patio and kitchen projects as well as providing top of the line grills and accessories.
The new name Fireplace, Stone and Patio does just that. C3D brought the name to life with a fresh new logo and also authored a tagline that identifies the positive impact their products and services can have on an individual's lifestyle.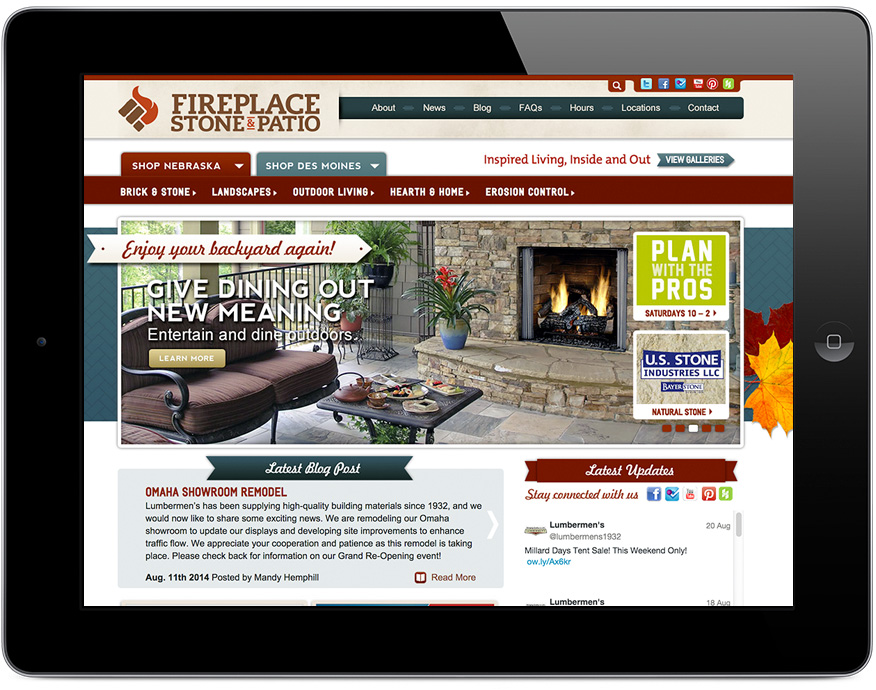 ---
"Corporate Three Design keeps the ball rolling on projects we assign to them; they are quick to respond and adapt well to our changing needs."
-Jeff Funk, President
---
Are you in need of a brand refresh or design overhaul? Improve the quality and consistency of your marketing with the creation of new icons, logos, and artwork.