What is Local SEO?
Simply put, Local SEO is the process of optimizing your search engine ranking around your local geographic area. This could be within a neighborhood, city, or region. Even though the internet is mostly ubiquitous around the world, local SEO is important. This is due to the rise of the smart phone and how it has impacted how we use use the internet over the last 15 years.
Today, a mobile device is where many searches for local business, products, and events begin. Meaning they don't necessarily start with the king of search, Google. While Google is still dominant, Apple Maps, Google Maps, Yelp, and Facebook Business are also driving the search for local goods and services. There has even been an increase in usage of the privacy-centric DuckDuckGo. On an iPhone you can still select the default search engine among Google, Yahoo, Bing & DuckDuckGo (settings->Safari->Search Engine).
Local SEO – Did You Know
According to Google, 76% of people who conduct a local search contact a business within 24 hours. 28% of those searches result in a purchase of a service.

Source: https://www.thinkwithgoogle.com/marketing-resources/micro-moments/purchase-decision-mobile-growth/
Why is Local SEO Important?
There has also been a second driving factor in local search. Google has shifted their algorithm over the years. They would provide results based on the search term. Now they provide results based on both the search terms, plus what they believe to be the user intent. Unless you have taken steps to remove the location data from your device, it is pretty easy for search engines to know roughly where you are located.
Knowing that, let's invent a hypothetical user in Omaha who is looking for a new patio set on Google. They type "patio furniture" into their search bar.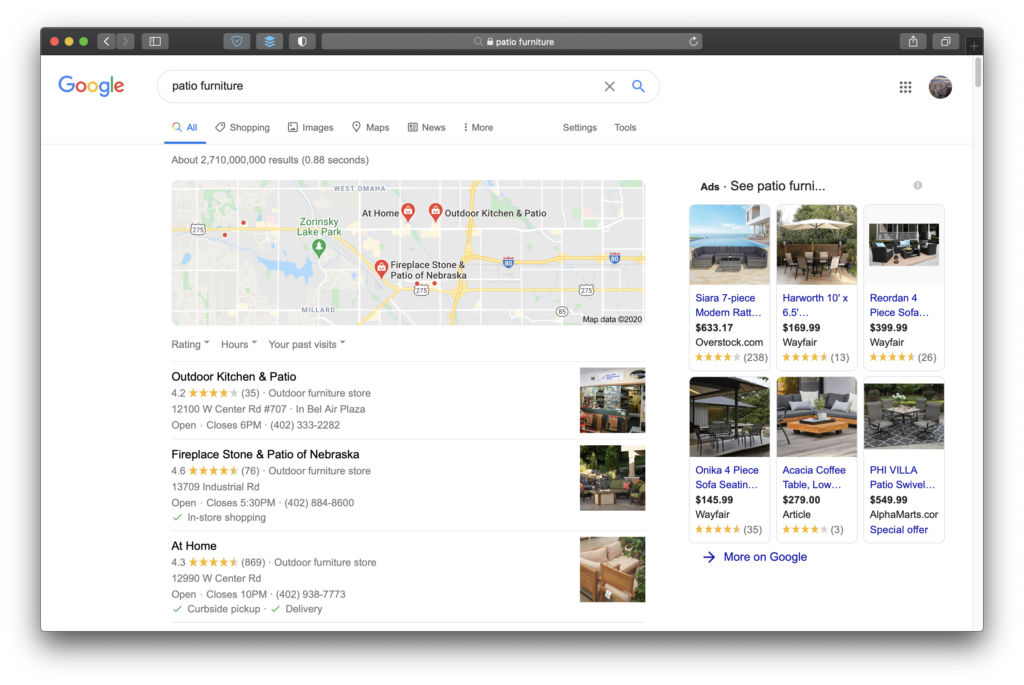 Google, knowing the user is in Omaha, connects the search phrase with the user intent that they are searching for patio furniture near them. The first result (after the ads, which were removed for legibility) is a compact map location showing the three most relevant sources for Patio Furniture in Omaha.
In SEO terms, this map search results is called the "Google Map Pack" or "Google Local Pack." In terms of search results, this gives local business the clout they need to compete with larger, nationwide businesses. Almost every type of business is helped by this type of search result.
As you see in the next image, the first three organic search results are for large businesses.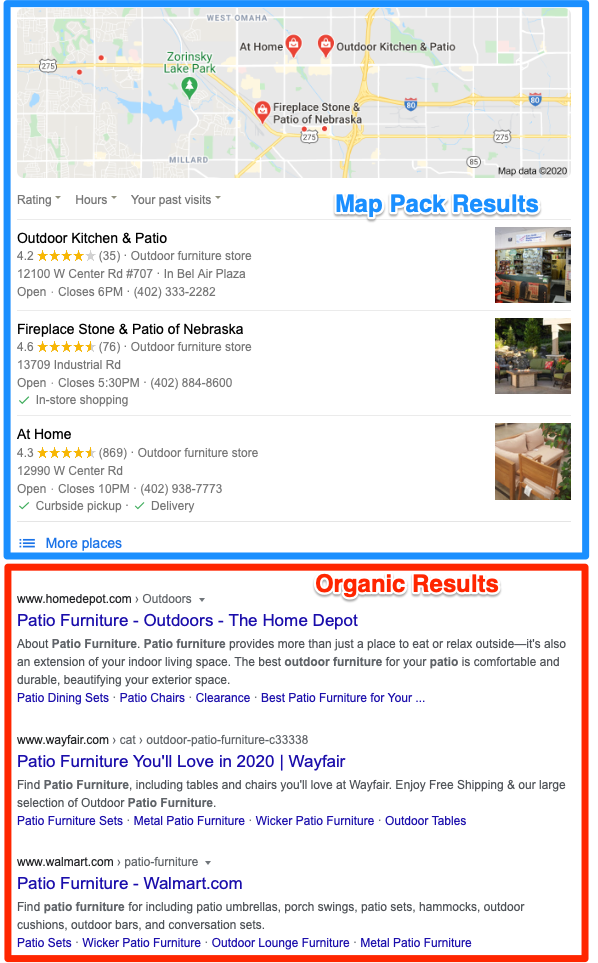 Local SEO is about optimizing the content and structure of your site, so that you capture the audience of local user intent.
So how do you get there?
How to Improve Your Local Results?
First and foremost, start with consistency in Name, Address, Phone Number (NAP) in your website and third party business listings.
You should claim any business listings for your business that you can find. The most common would be: Google My Business, Facebook Business, Yelp, Bing Business, and LinkedIn. Add TripAdviser if your business touches tourism or place/things to do. There are several others out there, but let's take care of the fundamentals.
Each site has a different way to claim a business. It usually involves a postcard sent to the business address or a phone call to the listed business number. We do have a guide on editing your business on Google Maps, which shows the process more in depth. Once the locations are claimed, it is time to make sure the NAP information is correct and identical on all of the major platforms.
Next, on your website, make sure your address is prominently listed in the site. The footer is a good place to do this. It provides space to include the business name (in text), the address, and a clickable phone number.
Click to Call – Did You Know?
A Google study shows that 70% of mobile searchers click-to-call a business from Google results.

Source: https://www.thinkwithgoogle.com/consumer-insights/click-to-call
Keyword Research
Now, it's time to do some rough keyword research. Pro SEOs have many keyword tools at their disposal. But you don't have to be pro to get some tips on what people are searching for to trigger local search results.
Using the fictitious "Super Awesome Coffee" as a sample business, here are some searches that trigger local intent:
"coffee shops near me"
"super awesome coffee address"
"super awesome coffee phone"
"what time does super awesome coffee close"
"directions to super awesome coffee"
If you need to find some other keyword ideas that might be trigger local SEO results, head over to Google and take advantage of Google Autocomplete: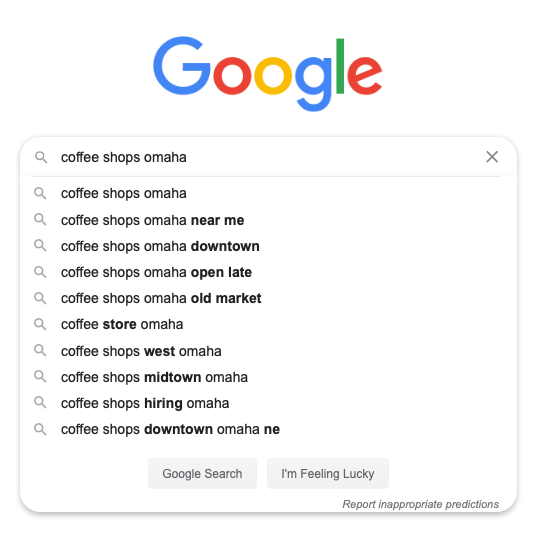 Once you have some rough keywords identifying user intent, you can measure how your site performs against those type of searches.
You may need to modify your website structure to change the local SEO results. This could be as simple as content changes.
As a small business owner, you may be too close to technical terminology in your business. You may specialize in selling Turboencabulators, but your customers only know them as Blue Widgets. Changing your website content to reflect "blue widgets" would likely have a positive impact in local SEO results.
Hopefully you've found this guide to local SEO informative. If you'd like to discuss your local SEO efforts with our staff, we'd love talk with you about how we can help your business grow. Contact us today!