<![CDATA[
We can try and explain the benefits that fresh content provides through the lense of SEO or brand awareness, but if a client hasn't established an internal approach to writing new content (and isn't willing to pay for it to be created) then nothing else matters.
One of the greatest challenges of managing a website is identifying a repeatable, personalized approach to writing content.
Move One Step At A Time
I like to avoid getting overwhelmed by the content creation process as a whole and focus on easily digestible steps.
With this guide, you will learn how to:
Perform quality research on any topic for any industry
Write thoughtfully for humans & search engines
Optimize content properly for on-page SEO
Distribute content efficiently and effectively
Getting Started
When it comes time to write a new piece of content for our website, I like to first identify answers to these basic questions:
What is the general topic?
What is the preferred voice for your company or brand?
Who is your selective audience for this specific piece of content?
What platforms will the content be distributed on to reach your audience?
What value does this topic provide to your audience?
What action do you hope your readers will be enticed to make?
What is your intended publish date?
It can help to brainstorm with a friend to answer these initial questions, but sometimes it is more productive to work alone—everyone is different.
Once you get this information down on paper, you should have a more focused direction to make the most of your research.
Begin General Research
When performing research on a new topic, I prefer to start by searching for authorities on that topic both on and offline. Here are some of my favorite places to find "experts":
At work (coworkers, vendors, and even other clients)
Social Media, Slack Communities
Google SERPS (Who is on page 1?)
Help forums around the web
Top blogs and industry news sites
With the right mix of personal experience and outside research, you can become an expert on any topic and provide your own unique take. What are you waiting for?
Reminder: The Goal of Content Creation
Remember, the ultimate goal of your content creation efforts is NOT to simply rewrite well-performing articles that you find around the web to gain traffic. This approach will almost never work.
Your goal is to create unique, original content for your website that provides informational value for visitors that encourages them to become customers. You can produce this kind of content by identifying:
New ideas related to your products and services
Gaps in existing content related to your products and services
Your customers' "micro moments" on their path to purchasing
Solutions to your customers most common problems
Producing this content requires an acute understanding of how your customers are searching for these topics on the web as well as how search engines document them. Consider performing some basic keyword research to get started.
Begin Keyword Research
Search results and keyword density can tell you a lot about the way your audience thinks about your brand, and more specifically your products and services.
With some basic keyword research, you can discover exactly what information your audience wants and then evaluate how well the content on your website delivers. Here are a few tools to get you started with basic keyword research:
Google Autocomplete
Did you know you can do basic keyword research right from Google.com? Just start typing.

In order for this to work, Google's "autocomplete" feature must be enabled in your search engine. You can tell when it is enabled if a drop down menu of search suggestions appear after you start typing.
Be aware that if you are signed in to your Google Apps/Gmail account, your location and search history may influence the drop down suggestions as well as the rankings in your results. Open an Incognito window (Shift+Cmd+N) in your browser to prevent your account information from influencing your search experience.
Google.com's Autocomplete is a quick and free solution to performing keyword research on the fly. You can also grab your phone or iPad and compare mobile and desktop results for a deeper look.
Ubersuggest & Keywordtool
If you hit a wall during your keyword research or just need a different perspective, turn to sites like Ubersuggest.io and Keywordtool.io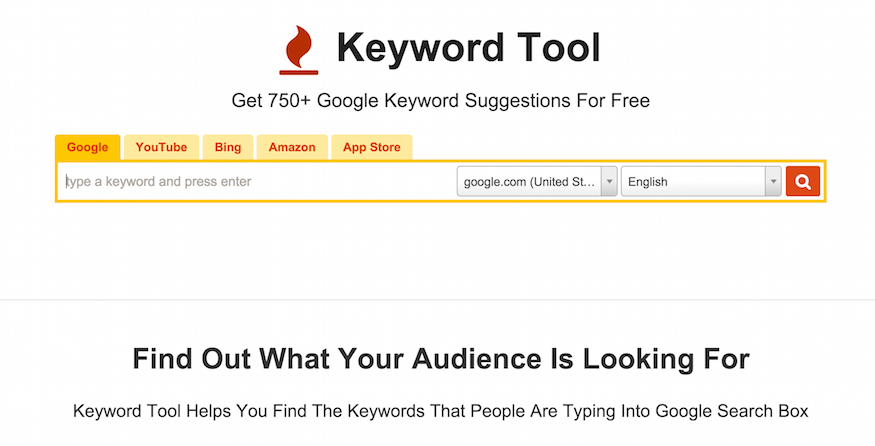 Both of these websites offer free versions of tools that provide machine-generated keyword lists based on search volume and popularity. You can then curate and export custom keyword lists that can be shared with clients and coworkers.
Google Search Console (formerly Webmaster Tools)
Google Search Console is a free service offered by Google that helps you monitor and maintain your site's presence in Google Search results.
You don't have to sign up for Search Console for your site to be included in Google's search results, but doing so can help you understand how Google views your site and optimize its performance in search results.

According to Google, with access to Google Search Console, you can:
Monitor your site's performance in Google Search results
Make sure that Google can access your content
Submit new content for crawling and remove content you don't want shown in search results
Create and monitor content that delivers visually engaging search results
Monitor and resolve malware or spam issues so your site stays clean
Discover how Google Search—and the world—sees your site
Questions to Ask Yourself When Using Search Console:
Which queries caused my site to appear in search results?
Did some queries result in more traffic to my site than others?
Which sites are linking to my website?
Is my mobile site performing well for visitors searching on mobile?
I rely heavily on Google Search Console to discover:
High performing pages that deserve more attention or updates
New keywords that are gaining traction
Under-performing pages with room for improvement
Related keyword gaps (appearing for ____ but not ____)
Specific longtail queries
Keyword research is a step that is guaranteed to improve your understanding of your customers' content discovery process and use of search engines.
At some point, however, you are going to have to determine where the research ends and the writing begins. Remember, you can always go back and fill any gaps in your writing with further research if needed.
Begin Writing
If finding a repeatable, personalized approach to writing content is one of the greatest challenges of managing a website, then actually writing it is the greatest challenge.
As a journalism major, I understand that writer's block is very real. However, I also don't have a lot of sympathy for those that let writer's block get the best of them.
Open a new document, remove distractions, and just write what you know.
For some topics, I like to begin with a half hour of intense brainstorming, presented in a stream of consciousness format. This allows me to get my existing knowledge of a topic down on paper before deciding if I will need more research or just fact-checking to back up what I already know.
My typical content writing process looks something like this:
Research
Write, write, write
Read entire post
Edit, proof
Develop headlines
Share interally
Edit, proof
Read again, edit
Rewrite headline
Write meta description, SEO title
And it can change! Some people just need a pen and paper to begin writing content—everyone is different.
Take note of any parts of your current writing process that could be improved and make an effort to try something different next time. After establishing a repeatable process, you might turn to the help of some additional tools to enhance it.
Enhance Your Writing Process
WordCounter.net

Wordcounter.net is my absolute favorite tool for analyzing blog posts after I have reached a stopping point in my writing.
As you can see, Wordcounter provides a wealth of information about your work in progress, including:
Reading Time
Keyword Density
Reading Level/Difficulty
Goal Setting
Look to Wordcounter if you are trying to write more conversationally by lowering the reading level of a piece or need to measure the frequency of a keyword in your writing for SEO purposes.
CoSchedule Headline Analyzer
Ever wonder what your headlines or page titles look like out in the wild? Coschedule's Headline Analyzer offers an amazingly simple tool for finding out just that.
Many content creators don't understand the level of control they have over the presentation of their content in the wild. If you are like me, then you care if your headlines are being cut short in search engine results or email subject lines.

This tool offers an easy way to jump into your customers shoes and view your headlines and page titles as they would appear in search engine results and email subject lines.
Beyond that, Coschedule's Headline Analyzer will also guage emotional responses to your headline and provide insights into length and word choice.
Style & Optimize On-Page Content
Regardless of where you created your new piece of content (Google Docs, Word Processor, CMS, etc.), it will need to be styled and optimized properly before being published live.
Here are some basic things to look out for when optimizing your content.
Break Up Content With Headers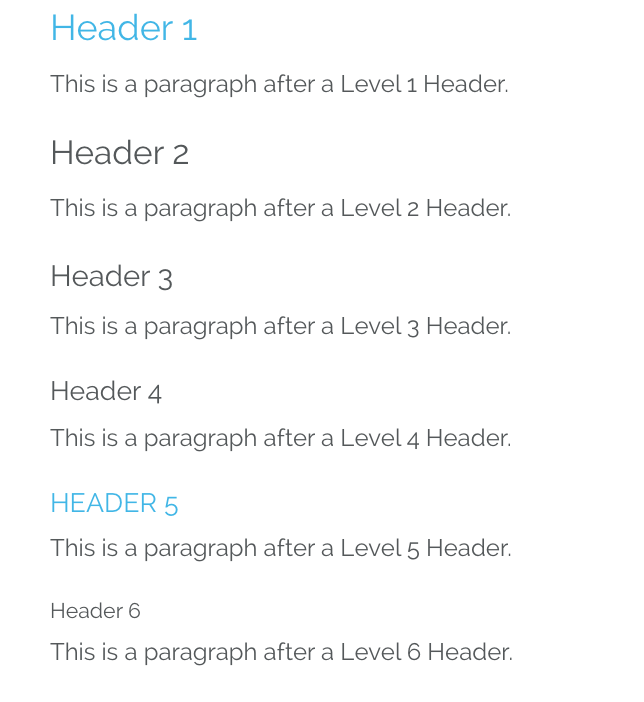 Establishing a logical, visual hierarchy within the written content of your website is extremely important for readability on the web. This is where headers can help.
Headers are often hard-coded into the the stylesheet of your website so they remain consistent across all pages and posts. If you are not sure what your headers look like, grab a developer and ask to see your site's CSS-test or stylesheet.
Headers can break up the content of your page for readers into smaller, digestible bits. They aid with skimmability and ease of reading, especially on mobile devices where screen space is limited.
The use of headers is also helpful for search engine spiders that visit your site.
Headers denote a hierarchy of importance that spiders evaluate as they crawl your page. As a general rule of thumb, your target keyword(s) should be present in your page title/headline, H1, and body content.
Use Images & Alt Tags
Images are great because they draw readers in without requiring them to read a single word. In a world where social media shares dominate distribution, the thoughtful combination of a good photo and a solid headline can do wonders for even the driest subject matter.
Stand out by using original photography that your customers won't find on a competitor site. If you must turn to stock photography as a means of saving time or money, consider the value of custom stock photography to make them your own.
The use of images is also helpful for search engine spiders that visit your site.
Search engines translate images in a very unique way. They have the ability to decipher the contents of an image without any help, but content creators also have the ability to provide further information about how the image is interpreted through the use of alt tags.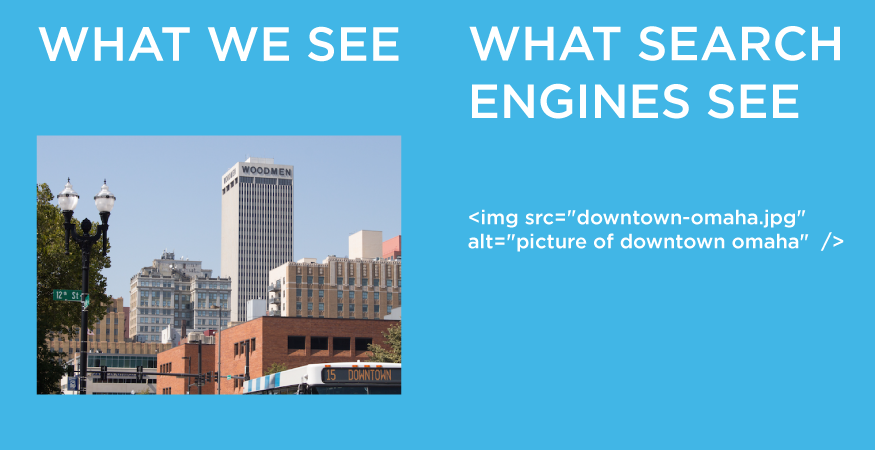 Using alt tags for your images can increase the relevance of your content in relation to a desired topic or keyword, increasing the likelihood of that page being found in search.
Add Relevant Links & Anchor Text
Can you imagine submitting a research paper with no bibliography or references?
As we mentioned earlier, a quality piece of content will draw and build upon outside knowledge and research related to the topic at hand. Links are a great way to provide your readers with references to your research to boost your credibility and enhance the reading experience on your site.
If you're not sure if it is appropriate to include a specific link, ask yourself this question: Does the inclusion of a link here help the reader?
Consider opportunities for interlinking related blog posts on your site to encourage increased time on site for visitors.
You can also go one step further to optimize the anchor text of the links in your content based on the keywords you are targeting.
Anchor text is the visible, clickable text in a hyperlink. By inserting keywords that accurately describe where the link goes, you can beef up the relevance of your content for both the linked content and the article that contains the link.
Always avoid using deceptive anchor text that could create confusion for your readers about the destination of the link.
Craft A Killer Call-To-Action
To craft a killer call-to-action (CTA), you might need to revisit the initial goals of your writing, specifically: What action do you hope your readers will be enticed to make?
This desired action may be something as simple as clicking through to your "About" page to learn more about your business or as technical as completing a contact form with personal information in exchange for further materials. It is completely up to you!
Assume the position of one of your customers and settle on a CTA that doesn't ask too much. A solid CTA should bring everything full circle to reinforce the importance of the topic at hand as well as your expertise on the matter.
Any piece of content that ends abruptly without a CTA is a missed opportunity for your brand to engage with readers who are already on your site.
Distribute Fresh Content
One of the most overlooked steps of the content creation process is distribution.
Unless you have an audience of readers that awaits your next blog post like the release of a new Harry Potter book, distribution is going to be critical for gaining traffic and pageviews.
Luckily it's the year 2016, and social media offers seemingly unlimited avenues for distributing your content out in the wild. There are also plenty of free social media automation tools available that can help you save time when managing multiple profiles on multiple platforms.
Simply find out where your customers are spending their time on social media and follow them there with your fresh content. Social media offers an extremely low barrier of entry for even the smallest businesses and marketing teams.
Looking to find direction and consistency for your messaging? Discover what original content and creative copywriting can do to enhance your existing marketing strategies.