<![CDATA[
If you haven't heard, Google Maps underwent a major update in March 2017. Google Map Maker, the editing engine responsible for managing the rich display of location information on Google Maps, was shut down completely.
For many SEO folks (and spammers) this was a tremendous blow to the traditional order of operations we had become accustomed to for editing location data on Google Maps. But for all of the features and utility that Map Maker provided, it also offered one of the poorest user experiences I have ever come across on any Google property on the web. It just felt dated.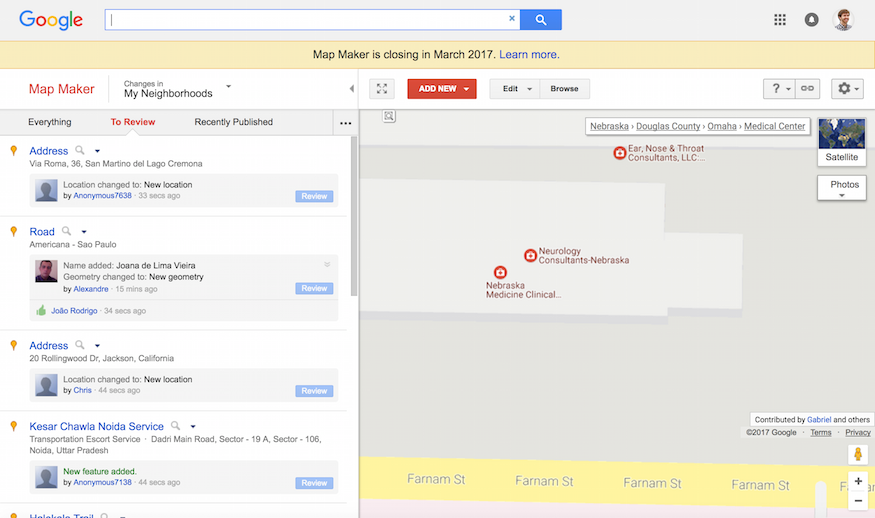 Luckily, the folks at Google cooked up a more user-friendly solution that should provide richer data to Google Maps users (and also make it harder to spam, hopefully). This new program is called Local Guides.
What is Google Local Guides?
Google describes Local Guides as "a global community of explorers sharing their discoveries on Google Maps." By contributing, you can "help others find the best spots in town, make new friends, and unlock exclusive benefits along the way."
Local Guides is essentially a set of new editing features baked into the Google Maps. There is no longer a separate website (Map Maker) where edits must be performed. Google is hoping to simultaneously lower the barrier of entry here for users who are interested in contributing to Maps, and also incentivize participation.
By signing in with your Google account, you can view a log of all of your edits and contributions to Google Maps. You can also earn points for contributing which will unlock "exclusive benefits" along the way (more on this later).
How Can You Participate in Local Guides?
All you need in order to participate in Local Guides is access to Google Maps (desktop or app) and a Google account. Users under the age of 18 are not allowed to participate.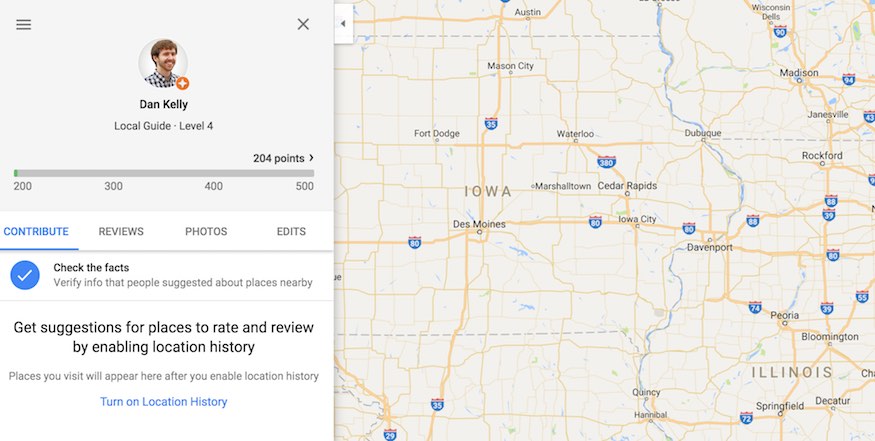 Organizations, brands and businesses are not eligible for the program. If you offer services for hire (such as marketing yourself as a Street View trusted provider), you are not allowed to bundle such services with your Local Guide membership.
How to Access Google Local Guides on Desktop
Visit Google Maps in your browser
Login with your Google account
Begin editing!
How to Access Google Local Guides on Mobile
Download the latest Google Maps app from the Play store or Apple store
Login with your Google account
Begin editing!
9 Different Ways to Earn Points in Google Local Guides
Once you are signed up and logged in, there are a number of ways to participate in the program to earn points.
Share reviews (5 Points)
Provide a short write-up of your experience at a local place or business.
Share ratings (1 Point)
Provide a star rating for a location.
Upload photos (5 Points)
Snap and upload pictures from the location you are currently at to give other users a feel of the interior or exterior of a space.
Upload videos (7 Points)
Snap and upload videos from the location you are currently at to give other users a feel of the interior or exterior of a space.
Provide insights with answers (1 point)
Answer questions on Google Maps about places you have been.
Respond to Q & A's (3 points)
Using your mobile device, answer questions that visitors have in real-time.
Edit information (5 Points)
Suggest edits that improve the accuracy of a business or place.
Add new places (15 Points)
Create a new listing on Google Maps for a new business in your area.
Check facts (1 Point)
Provide a deeper look at local businesses by answering specific questions about the location, such as "Is it usually quiet here?"
Hosting and Attending #LocalGuides Meet-ups
While you can perform any of these tasks from your desktop or mobile device, wouldn't it be more fun to explore your area with some friends?
#LocalGuides meet-ups are a great place for you and some new friends to perform these five tasks together. Anyone can host a meet-up and it is free to schedule and list yours on the Local Guides Connect forum.
Types of #LocalGuides Meet-ups
Hosting Your First Meet-up
Hosting a #LocalGuides meet-up is simple and easy. Google provides you with the ability to create an event page to keep track of RSVPs. You can even start a discussion about the event in the Local Guides Connect forum.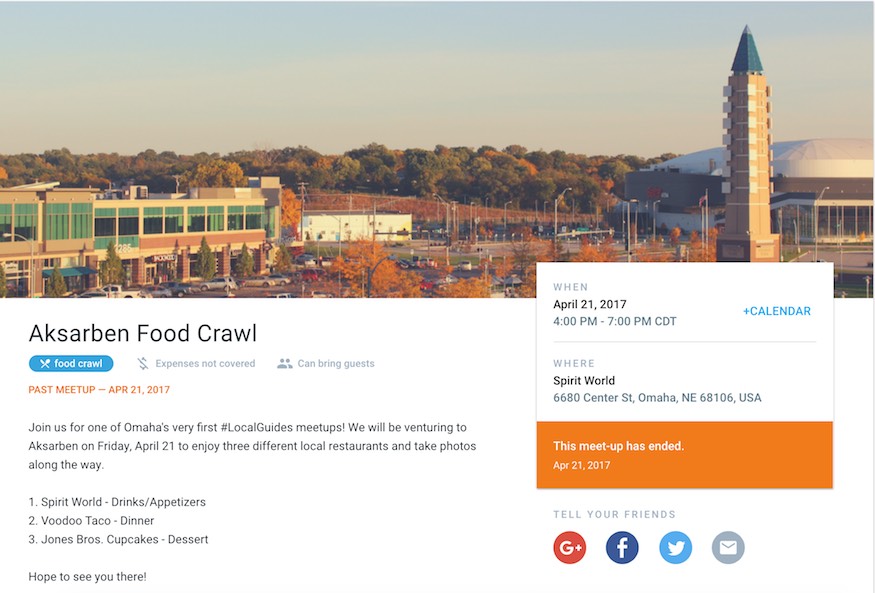 I just held my first meet-up last Friday at Aksarben. I chose a "Food Crawl" and visited a total of 3 different restaurants in a single afternoon. Five members of the C3D team attended, but we are hoping to see some new faces next time.
View our photos from the Aksarben Food Crawl meet-up.
If you are interested in hosting a Google Local Guides event in your area or, let us know! You can also join this Google+ group to chat with other Local Guides editing Google Maps in Omaha.
Unlockable Benefits—What's the Catch?
You may be asking, "Why contribute my photos and reviews to enhance a product owned by Google?"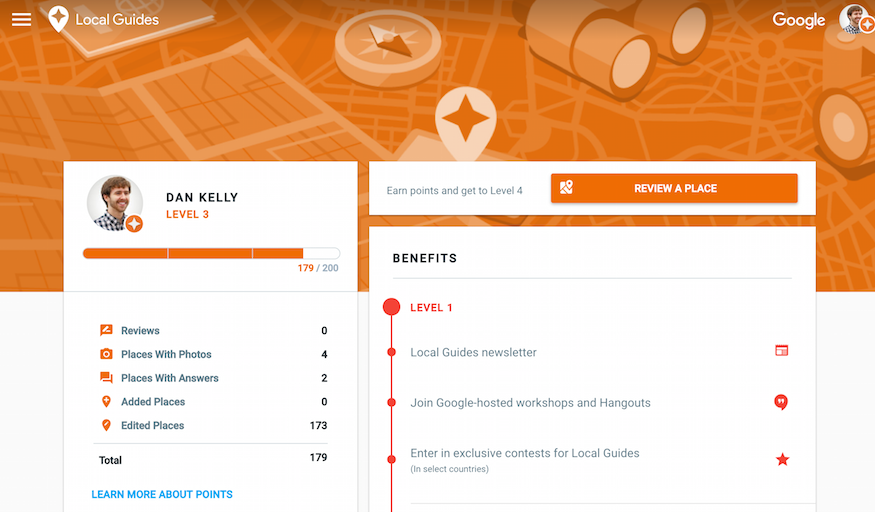 I would imagine that Google expected this kind of pushback, and so they decided to offer some really enticing incentives available for unlock through Local Guides. Earn enough points and you will be granted exclusive access to new features on Maps and even enhanced versions of your current Google products, like 100 GB of free Google Drive storage.
June 2017 Update
Google launched an update for Local Guides in June of 2017 that allows users to now reach up to Level 10. Google has also adjusted the amount of points they reward for different contributions to make it easier to level up.
More importantly, the goal of Local Guides is to celebrate local businesses and make Google Maps easier and more reliable to use for everyone. 
Your customers rely on the accuracy of your information on Google Maps in order to do business with you. Get your business listed to leverage the full benefits of the integration between Google Maps and Google Search.