<![CDATA[
We search for that magic mix that will intrigue customers to purchase and, better yet, create repeat customers.
In the last several months I've been researching story, more specifically immersive storytelling, and it's potential use in business to create those loyal repeat customers. Story and immersive storytelling are most often associated in an entertainment context, but I like to argue that we as marketers and business owners need to be able to tell our brand's story to effectively communicate with our customers.
Story and its effects on brand warrants several posts, but for the purpose of this post, I'm going to cover transmedia media and immersive storytelling which I've been researching for several months.
Transmedia Storytelling
Telling your brand's story through different media is an example of content marketing, and the entertainment arena likes to refer to this as transmedia storytelling.
The Japanese perfected this decades ago by telling stories through several different media at once: film, anime, comics, webseries, video games, board games, online interactive games, toys and the list could continue.
Here are a few examples of transmedia storytelling.
Star Wars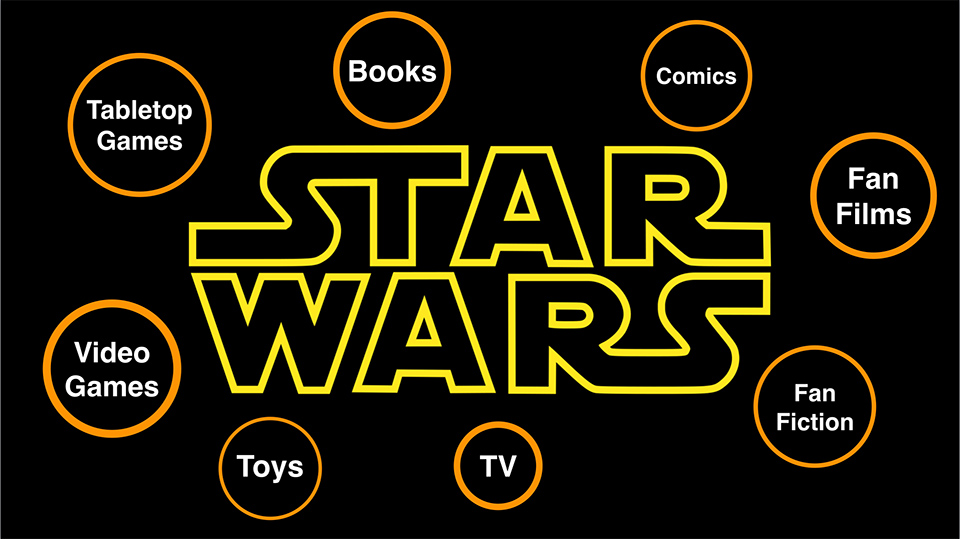 Star Wars is the obvious example. In the 70s, the studio George Lucas was working with didn't have much faith in the space story, so as part of his contract he was given merchandizing and sequel rights. Since he had the world living in his head, it was a natural outlet to tell the story in other formats and make tons of money in the process. In an example of an audience who is totally bought into the product, people began creating their own content based on Star Wars which only fueled the fan flame.
Disneyland and Walt Disney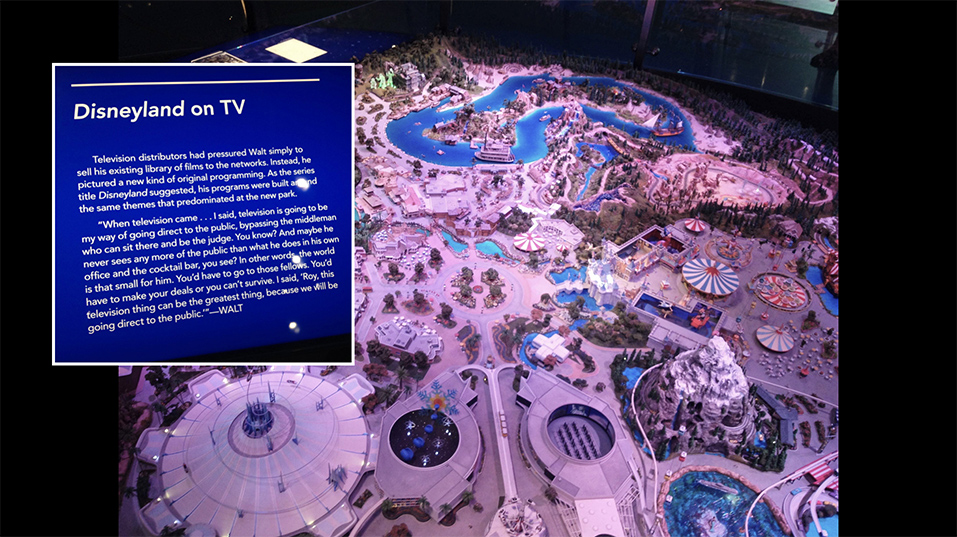 Walt Disney is probably my hero of content marketing. When he was creating Disneyland, the park included various lands – Frontierland is a good example. To help promote the park, he created television shows (content) to tie in and generate interest in seeing those places in real life at the park.
Land Rover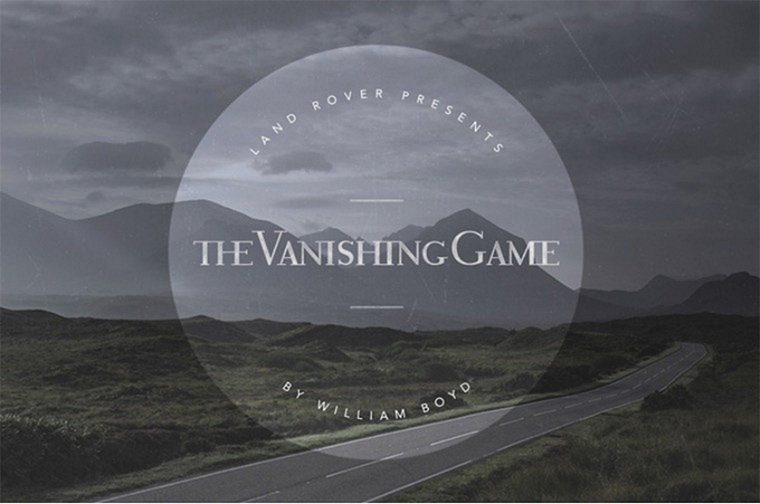 The Vanishing Game is an interactive story commissioned by car manufacturer Land Rover and written by British author William Boyd. Images and video are woven throughout the digital piece. The story was created on Tumblr and includes links to see the car in action. Did this interactive story result in more people buying Land Rovers than they would have before? I can't say for sure, but it sure is a cool way to demonstrate the feelings and adventure of owning a Land Rover that they have worked so hard to create. They can do this, because they know their brand's story.
Coca-Cola – Happiness Factory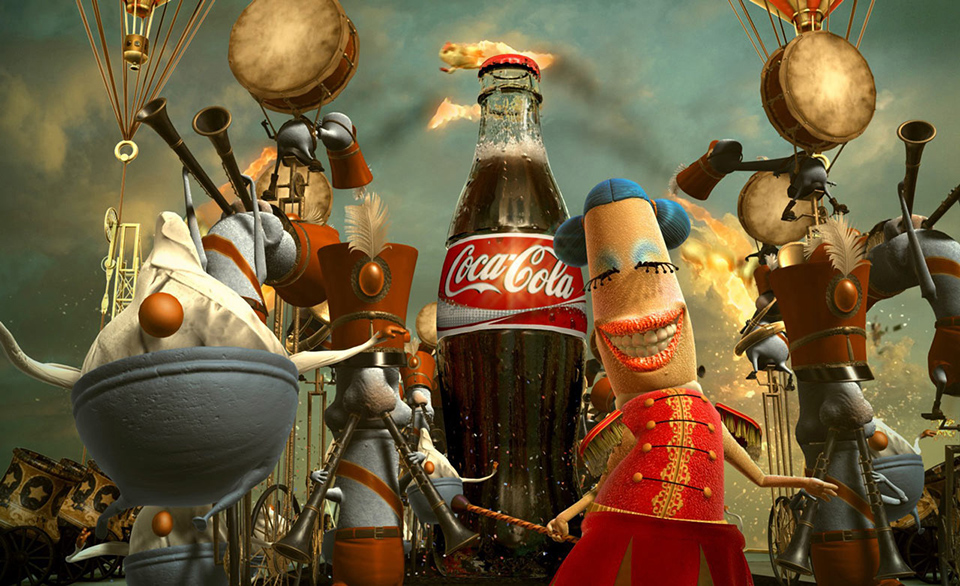 In 2008, Coca-Cola sent out a request for a campaign concept to advertising agencies to help them overcome the backlash of the health crisis in the US. From that request "The Happiness Factory" was created and has been one of Coke's most successful advertising campaigns that they have used for many years. They brought in Jeff Gomez to flesh out the core of the story; he created the characters and an entire world for different forms of content to grow. Over the years Coke's different agencies created a 3 minute mini-film, several commercials, "A Now Hiring" website to apply to work in the Happiness Factory, games and a single sung by Cee Lo Green which hit the pop charts in Australia, New Zealand, and the US.
Immersive Storytelling
Transmedia storytelling and marketing tell the story through multiple touchpoints which ideally will find your target audience where they're at. But what if a brand or creator wants to take it one step more and invite the audience to take part in the story?
This is my perspective on the next step in storytelling. Immersive storytelling invites the viewer to take part in the story and have an outcome on what happens.
The Ultimate Immersive Experience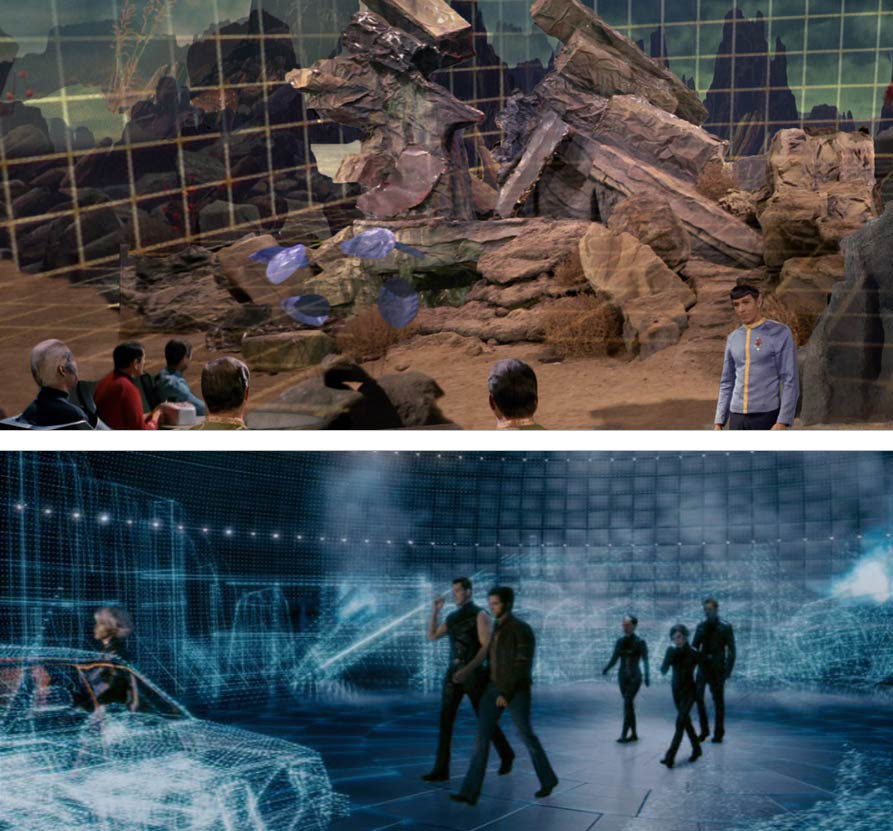 I'm going a bit nerdy now, but hang with me. Many would describe the ultimate version of an immersive experience as the Holodeck from Star Trek or the Danger Room from X-Men. Both of these examples would require a type of artificial intelligence that doesn't currently exist. So understanding that the ultimate immersive experience won't exist for awhile, here are a few of my favorite examples of what is possible with Immersive Storytelling right now.
Why So Serious? – Alternate Reality Games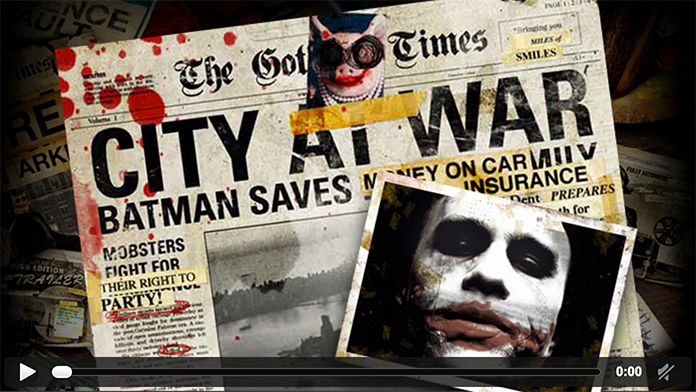 This was an interactive marketing game designed for The Dark Knight movie by 42 Entertainment. Clues were hidden in various websites. Individuals were sent to real cake shops in different cities where they were given a few other clues ultimately leading them to tickets to a special screening in major US cities. At the screening, they were shown the first 6 minutes of the film where they learned that in solving the clues, they had become accomplices to the Joker's grand scheme.
Live Environment Story Immersion
Here are two videos examples of what I'm calling "Live Environment Story Immersion."
Back to the Future – Secret Cinema
The Secret Cinema in the UK has been around for a while creating experiences around a popular movie. You arrive dressed in costume, and you are surrounded by a set full of characters from your favorite movie.
Forest Lumina – Moment Factory
Moment Factory's Forest Lumina was developed to attract more people to this forest in Canada. The concept was told through lights and projections in the forest at night.
In my mind, these are still passive experiences; you're taking the whole environment in, but you as the viewer are not directly affecting the outcome. Still there's something magical about being surrounded by people who are in the same place for the same reason whether that's the love of a band or experiencing a movie or a stage production or an amusement park ride.
Virtual Reality and Augmented Reality
The buzzword of the moment is "virtual reality." If you haven't heard it yet, you will in the next two years. Virtual reality involves wearing a headset that displays a 360° story. So if you're standing wearing the headset, you can turn all the way around, look up, look down and you're surrounded by the video.
If the story is told in first person, you feel like you're apart of the story, but you're not affecting the story outcome. The drawback I see with the current iteration of virtual reality is the headset. It feels limiting and there's not another human to interact with. If virtual reality is coupled with augmented reality, meaning you're physically interacting with a digital world, the whole process becomes more immersive and interactive.
Chris Milk gave a TED talk about virtual reality's use as an empathy machine. It's worth the 10 minute watch. He went to Syria to tell the story of a refugee family and took the story back to the UN to watch on VR headsets. This gave the UN a chance to almost step into the life of the refugees and make decisions based on what the family was going through.
Similarly charity: water developed a VR experience to tell the story of a family that was impacted by a water project. At charity: water's annual fundraiser, they handed out VR headsets so the contributors could see the world that their contributions were going to help.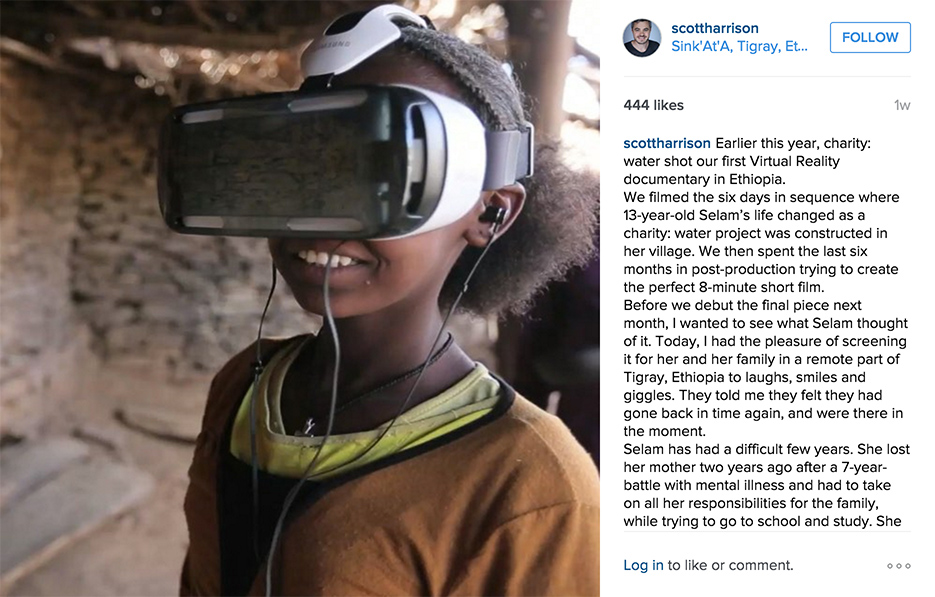 The LA Philharmonic created a VR video experience called Van Beethoven. The LA Philharmonic was filmed playing Beethoven's Fifth symphony. They created a vehicle complete with the same chairs and carpet from the Walt Disney Concert Hall where the philharmonic performs and brought it to various places around LA to give people who may not normally attend the symphony a chance to experience it. After watching the video, the viewer was given a discount coupon to see the symphony perform in person.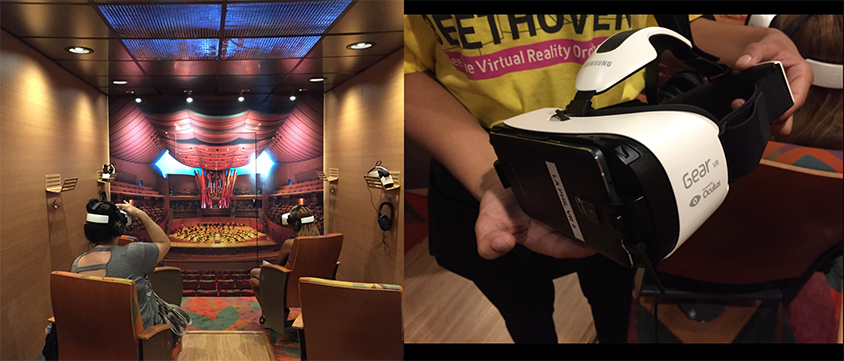 Since I started with Star Wars in the Transmedia discussion, it's only fitting to come full circle and discuss how Star Wars is adding to the Immersive Stories and VR discussion.
In 2015 Lucasfilm created a division of their company named ILMxLab which incorporates their special effects company ILM, their film division, and the use of Star Wars to develop content to tell these stories with the new technology. The xLab is still quiet about what's coming, but we should be hearing more as the new Star Wars films begin rolling out.
[Update] Check out the Star Wars app and grab Google Cardboard to experience a few things the XLab has created.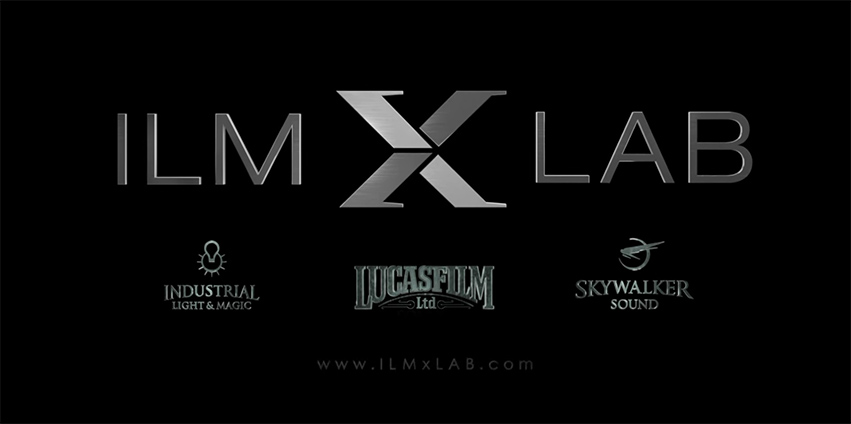 This is a newer thought process, but not one that is outside the realm of possibility for a brand. What it comes down to is how well do you know your brand's story and how much are you paying attention to those little details to make your audience feel like they're apart of something.
In today's world of so many messages and so many channels, understanding your story and how to communicate it has become more important for even traditional business. Immersive Storytelling brings your story into a platform where your audience can participate, have ownership, experience your story and become lifelong brand advocates.
It's going to be interesting to watch as this technology develops and how it will be used for entertainment and marketing. In the meantime, content – or more specifically story – is king.
Looking to find guidance or direction for your marketing messages? Discover what original content and creative copywriting can do to enhance your existing strategies.