Businesses are overwhelmed with too many marketing tactics.
They lack a plan to follow. We provide digital marketing guidance and expertise, so businesses can have a clear marketing roadmap to find their way forward.
Our marketing roadmap builds on 3 areas:
Foundation
Promotion
Generation
1. Foundation
There are three parts creating the foundation part of your marketing roadmap:
Messaging Identity

Story Talking Points
Elevator Pitch
Tagline

Visual Identity

Logo
Collateral

Website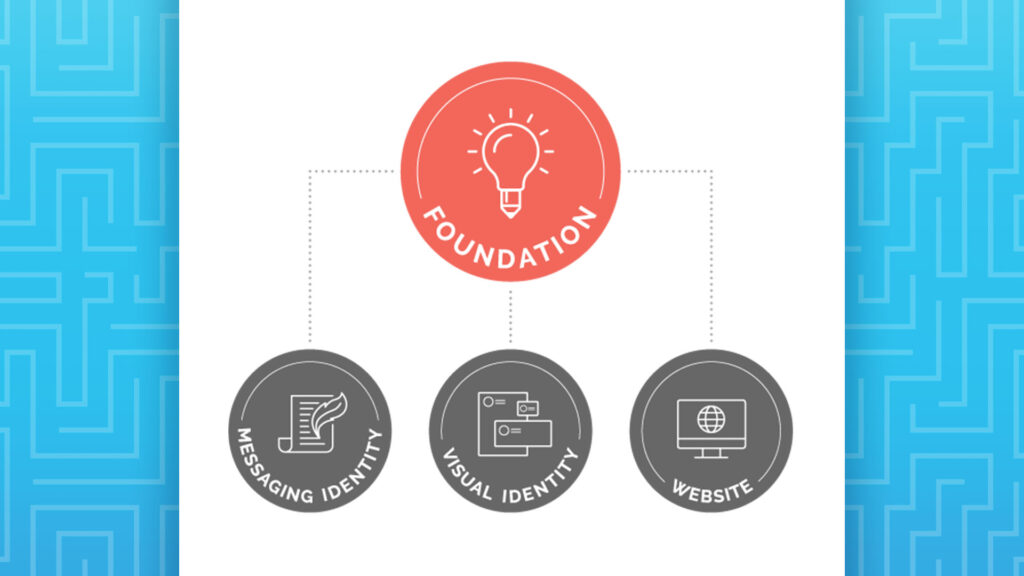 Messaging Identity
Your message is who you are, who your business is for, and what problem your business solves. A human brain is wired for the structure of story. We develop messaging with that in mind to engage a reader. The messaging is used for every other piece of your marketing plan.
Brand Identity
We build your logo and identity package reflective of who you are. Having a consistent identity creates credibility and familiarity with your brand.
Website
After defining your messaging and visual identity, we write, design and build your website or landing pages. This is the full time face of your business online. It should represent you well. More importantly it should be the answer to your customer's problem.
2. Promotion
Once you have a foundation, now it's time to create the promotion part of your marketing roadmap.
Promotion should start with the needs of your customers. It is your business, but it's not about you. It's about how you can serve and solve the needs of your customer.
Promotion should build your authority and empathy about 75% of the time. The other 25% is a direct ask for business.
We think of promotion in three big buckets:
Content
Advertising
Events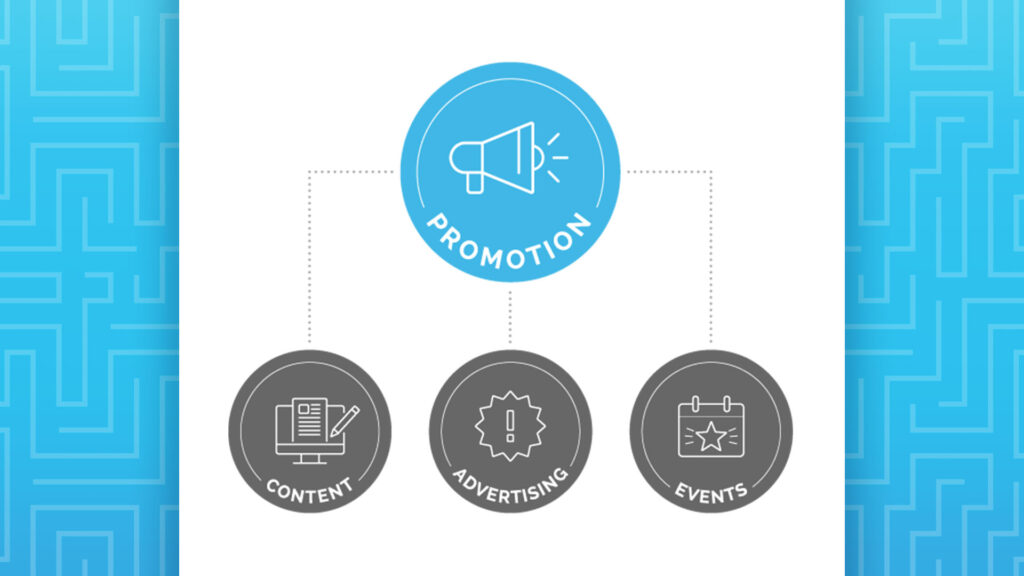 Content
Content is what feeds your site and builds your reputation. Without content that's influenced by your messaging identity, brands aren't found online, can't solve customer's problems, and ultimately stop growing.
For our team, content represents 4 specific areas:
Blog posts
Social media posts
Email
SEO (Search Engine Optimization)
Blog Posts or Vlogs
Blog posts build the search footprint of your site. If you sell landscaping services in the Omaha area, writing blog posts about the best plants for a Midwest climate tells search engines that you have answers for someone who is in the Omaha area looking for a landscaping company.
Social Media
While blogs build your authority, social media builds relationships and empathy. Social media channels could include Facebook, Instagram, YouTube, Twitter, TikTok, Snapchat, etc… These can also be helpful for search results. Social media is an audience you rent.
Within blogs and social media, you may also incorporate photography, video, gifs, graphics, charts, or animations. Any visual you need to explain the idea.
Email
Email is a way to keep in contact with your audience and stay top of mind. Even if recipients aren't opening your emails, your business name is passing through their inbox like little billboards. This develops brand recognition. An email list is a permission-based audience you own.
SEO
SEO is a tool used to refine content with the goal of search engines indexing your content and returning it more often in search results. If the content is written well and with your customers in mind, 80% of the SEO work is done.
Advertising
"Salesmanship in print" is how advertising has been famously described. We're going to describe it as paid content placed with a publication or platform you don't own.
Digital Advertising
Social media ads, Google ads, display ads on other websites, sponsored posts with partners, or sponsoring a podcast are all examples of digital advertising. This avenue has the added benefit of data. With digital advertising, you can more clearly target your audience and see immediate results from the ads. You'll be able to tell if the message or creative is working. If it isn't working, you can change the ad to get the results you're trying to achieve.
Traditional Advertising
Traditional advertising could include ads in newspapers, magazines, radio, TV, billboards, sponsorship of an event, etc… You also have access to the traditional publication's demographic data, but there's no immediate response to gauge the effectiveness of the ad. For some, traditional advertising signifies credibility and stability.
While platforms for advertising may have changed, the concept between digital and traditional is the same. Depending on the goals and audience, all digital may be best or all traditional could be best. More than likely, there will be a mix of the two that will benefit your business.
Events
Events are a unique mixture of double promotion. They promote your business and build an audience, but you also have to promote events for them to be effective. Hosting events with a partner extends the reach of promotion and opens up your business to a different audience.
In Person Events
In person events could include conferences, business meetings, staff parties, concerts, etc… They involve a large investment of time and resources, but they're one of the best places to reinforce community and build new ideas.
Online Events
Online events could include webinars, online versions of live events, viewing parties, online classes, etc… In a COVID-19 world many events are reinventing themselves into online events. This creates a new set of challenges but also unexpected opportunities to be creative.
Start Your Journey
We plan your marketing strategy using the promotion tactics listed above. Some of these are destinations every business can use like blogs, social media, and email, but you don't have to do it all. We'll work with you to develop a trip that works to achieve your goals.
3. Generation
There are two parts to Generation. They build on the foundation and grow from promotion.
Lead Generator
Sales Emails or Letter
Pop Up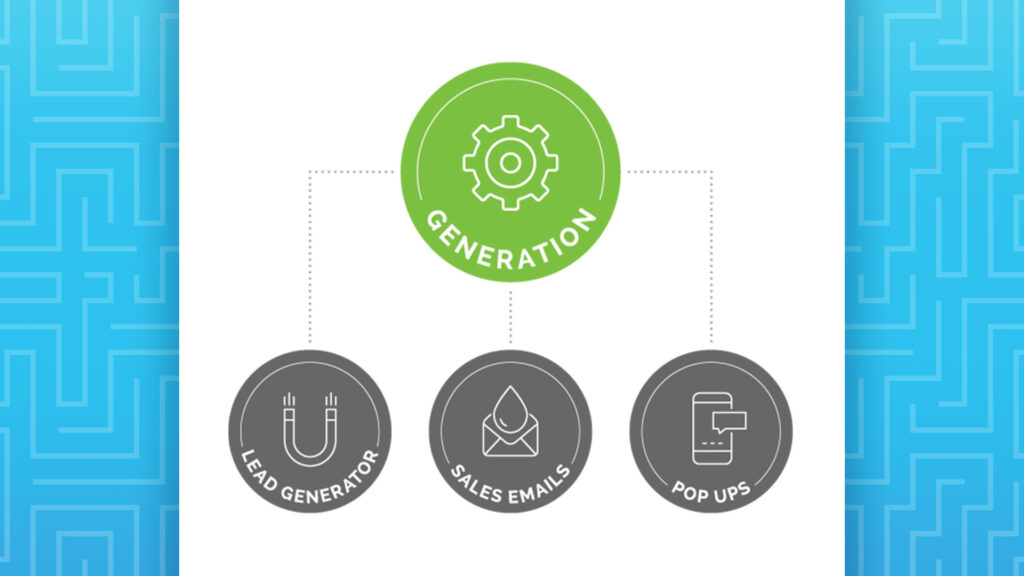 Lead Generator
This is an offer of some kind. For retail, it could be a discount to use in your physical or online store. For a service or knowledge based business, it could be a piece of information in a downloadable pdf or ebook. The offer should be valuable enough to the potential customer for them to give you their email in exchange. You may want to develop unique landing pages for these lead generators.
Sales Emails
When a customer downloads the lead generator, a series of sales emails – also known as a drip campaign – starts. These emails act as a roadmap for customers; guiding them through the sales process. They are written to show authority and empathy, give testimonies, overcome objectives, and help close a sale. We may also suggest a physical letter to include in this series. It adds a personal touchpoint bridging the gap between digital and physical interaction.
Pop Up
Pop ups are a tool that can be added to a website to collect email addresses. In certain cases, this pop up would take the place of a landing page for a lead generator. When a viewer visits your site this, this will pop up on the site and have a place for a viewer to add their email address. It should include an exchange of sorts. In exchange for a potential customer's email address, you will give them a discount or piece of valuable content.
Test and Repeat
With your plan established, we implement and test. Testing will tell us how to refine and focus to reach your goals.
With a roadmap to follow you can push past the noise of overwhelming marketing tactics. At Corporate Three Design, we provide digital marketing guidance and expertise, so you can find your way forward.
Contact us to find your personalized marketing roadmap forward.