Twitter offers some really awesome tools for making sense of your online audience within the Tweet activity dashboard.
If you're looking for new ways to become more engaged in online discussions related to your industry and attract the eyes of new clients, then Twitter would be an ideal place to start.
"That's Cool, But How Do We Measure It?"
At some point, you'll likely encounter difficulty rationalizing the cost/return of your social media marketing efforts.
(Remember, there was even a time when people did this before analytics!)
However, making sense of marketing costs on social media is easier now that major social platforms offer analytics data to social media account managers completely free of charge. The existence of this data allows brands to measure the effectiveness of their social reach and make better online business decisions catered to their audience.
Twitter's tweet activity dashboard is especially handy for:
Gathering real-time feedback from your audience
Interpreting trends and monitoring topics relevant to your business
Analyzing the reach your most successful tweets
Exporting your data for use offline
Twitter is just one social media platform that delivers real-time analytics data right to your desktop or mobile device that your business can use to measure success.
Set and Achieve Goals
While some major brands might be able to approach their social marketing budgets with little or no goals beyond spreading that brand awareness, it is more common for brands to engage in methodical approaches that make sense of hard data and connect action to realistic goals. Some examples of goals that your company might set:
Increase your number of followers for a certain demographic
Increase engagement from customers in the form of replies, mentions, RTs, etc.
Increase clicks to your landing pages or key blog posts.
Take the time to meet with your team to determine which social metrics are most relevant to your business-wide goals on social media, then begin analyzing the data. Don't have any goals for your brand on social media? It's never too late to start now.
Activate the Tweet Activity Dashboard
In order to activate your account's dashboard, your Twitter account must be live for at least 14 days. After your account has been live for 14 days, log into your Twitter account using your username and password at analytics.twitter.com to get started.
Access Your Tweet Activity Dashboard on Desktop or Mobile
No matter where you are, you can enjoy access to Twitter's real-time flow of Tweet data. Analytics data is available not only on your desktop but on your device's mobile app as well.
When you need access to the dashboard, simply return to analytics.twitter.com and click on "Tweets."

The dashboard can also be accessed on Twitter.com in the drop-down menu that appears by clicking on your profile photo in the upper right corner.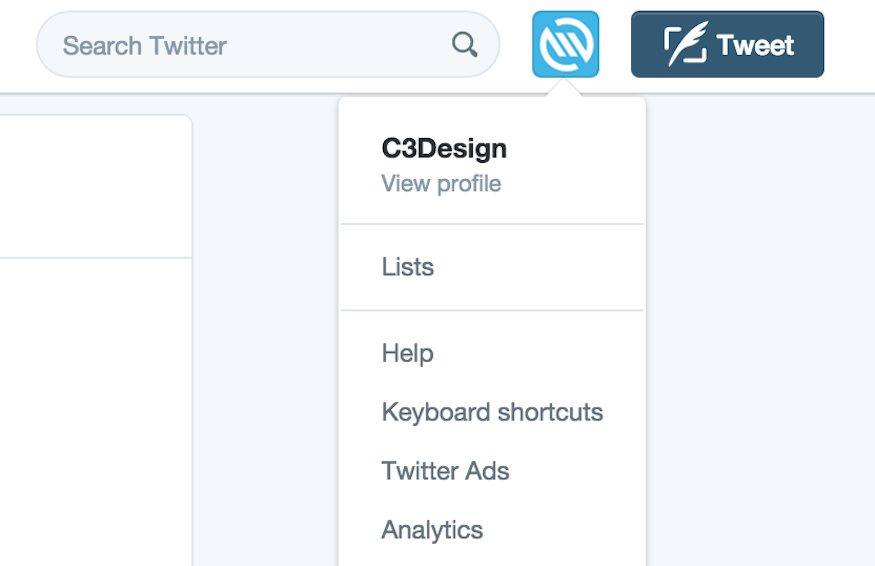 Anytime you want to retrieve analytics data for one of your recent Tweets, click "View Tweet" activity within the Tweet details.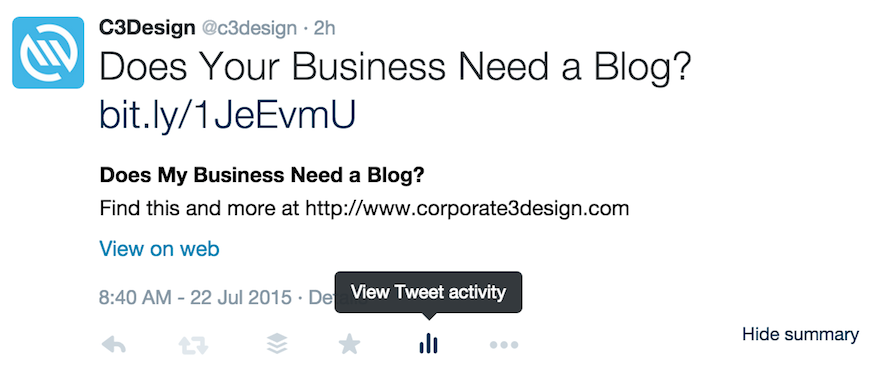 Tackle Twitter's Terminology
If you are unfamiliar with the terminology used within the Tweet activity dashboard, here are the terms you can expect to encounter most frequently:
Engagements: Total number of times a user interacted with a Tweet. Clicks anywhere on the Tweet, including retweets, replies, follows, favorites, links, cards, hashtags, embedded media, username, profile photo, or Tweet expansion
Engagement rate: Number of engagements divided by impressions
Favorites: Times a user favorited the Tweet
Follows: Times a user followed you directly from the Tweet
Hashtag clicks: Clicks on #hashtag(s) in the Tweet
Impressions: Times a user is served a Tweet in timeline or search results
Link clicks: Clicks on a URL or Card in the Tweet
Permalink clicks: Clicks on the Tweet permalink (desktop only)
Replies: Times a user replied to the Tweet
Retweets: Times a user retweeted the Tweet
Some of these terms are also used within Facebook Insights, so make sure you know Twitter's take to make the most accurate analysis of your data. See Twitter's full dictionary of terms for more information.
Get to Know Your Audience Better
Making meaningful interpretations about how well your content is performing is just one of the many things made possible by this data; valuable user info can also help you become more familiar with the people who follow your account.

Access your own "Followers" tab using the top left navigation menu within the dashboard. From here, Twitter will provide you with valuable data about your unique audience. Your "Followers" data is broken down into four separate sections:
Overview: Total number of followers, top interests, and gender distribution
Demographics: Top languages, countries, regions, also gender distribution.
Lifestyle: Top interests (technology, design, news, etc.)
Mobile Footprint: Breakdown of most popular mobile devices
Use this information to put yourself in the shoes of your followers and make reasonable inferences about actions you can take to improve engagement. For example:
Keep your followers close by sharing the most timely updates possible related to their top interests
Provide more gender neutral content to widen your audience diversity
Weigh in with commentary on news headlines that are local to your followers
Create more digestible bits of content if your followers are mostly on mobile devices
Consider post types like quotes or tips that educate and inform without asking too much of your followers
Export Your Tweet Activity Data
You'll learn quite a bit from just spending a few minutes in the dashboard. But, if you are looking to do some more advanced analytics reporting, Twitter offers the ability to export your Tweet activity into a CSV file that is compatible with programs like Excel and Apple Numbers. This data is completely at your fingertips.

Just set your desired date range using the drop-down calendar in the upper right corner. Once you've chosen how far back you want to extract data, select "Export data" (also in the upper right corner of your screen) and a download should begin promptly.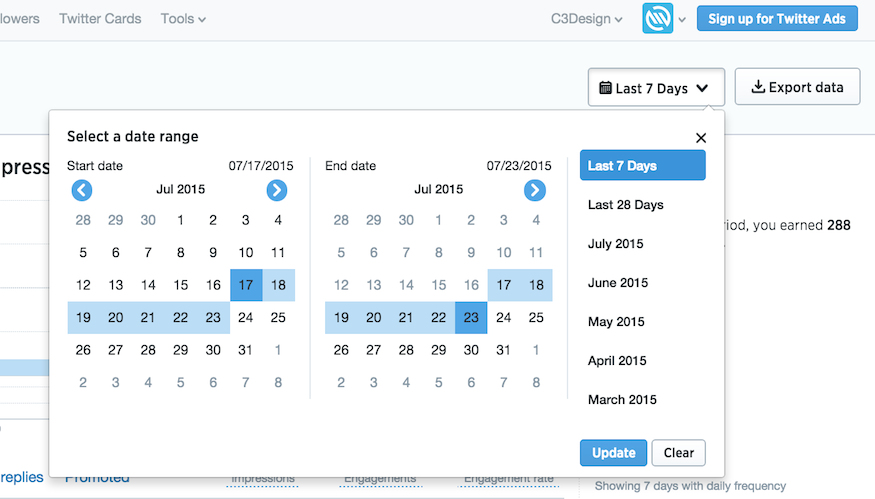 Analytics Provide Answers
Using Twitter's analytics data, you can effectively evaluate your performance on social media and determine which aspects of your social presence still need improvement. Considering how quick and inexpensive content distribution on social media can be at scale, we recommend choosing two or even three major platforms to master for your business.
Need to get your business started on social media? Check out some of our other related posts: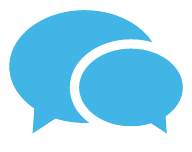 We work with businesses that are not afraid to take the next step.
Let's put your marketing and website to work.