<![CDATA[
There are individuals who have created entire businesses around the managing of social media accounts for large companies and public figures. But how do they find the time in their daily schedules to monitor, engage, and share all of that content?
Short answer: They don't.
A new wave of incredibly useful tools and services allows social media managers to perform most of their daily heavy lifting through simple, yet thoughtful automation. Here is a list of three awesome social media automation tools that can be harnessed by businesses for good.
Buffer
One of the most popular and effective tools we've discovered for automating posts to more than one social media account is Buffer. The Buffer App offers both a free version with limited access to some of the most advanced features, as well as their awesome plan for their most demanding users.
With the help of Buffer, sharing links, images, and commentary from relevant sites to your most popular social media accounts across the web can be performed with just a couple clicks.
Using Buffer + Browser Extensions
We highly recommend using Buffer in conjunction with the available browser extensions. Chrome, Safari, and Firefox are the only browsers that currently provide an extension that integrates with Bufferapp.com.
If you are looking to accomplish more on-the-go, check out Buffer for your iPhone or Android smartphone.
Become a Scheduling Master with Buffer
Buffer not only helps with the automation step of getting a single link out to your entire social media audience, but it also aids with post scheduling. Users can schedule posts at customizable times in the future, or simply use the Buffer Schedule's suggestions. Schedules allow your social media activity to continue throughout the day — even when you are away from the computer.
Watch, Wait, Listen
One of the greatest benefits of Buffer is its analytics reporting feature. Buffer shortens all URLs that run through its post automator to unique links that can be tracked for clicks and shares.
Already using a link-shortening service like Bitly? You can easily connect your existing Bitly account to Buffer and enjoy link-tracking and analytics across the board. This information can in turn provide valuable insight into your most successful content as well as the times of day when your audience members are most active on social media.
Costs & Plans
Individual Pricing
Basic Plan: FREE (Max. 10 posts in queue, link shortening, basic post analytics)
Awesome Plan: $10/mo (cancel or get a refund anytime) OR $102/yr (Save 15% vs. paying monthly)
Buffer For Business Pricing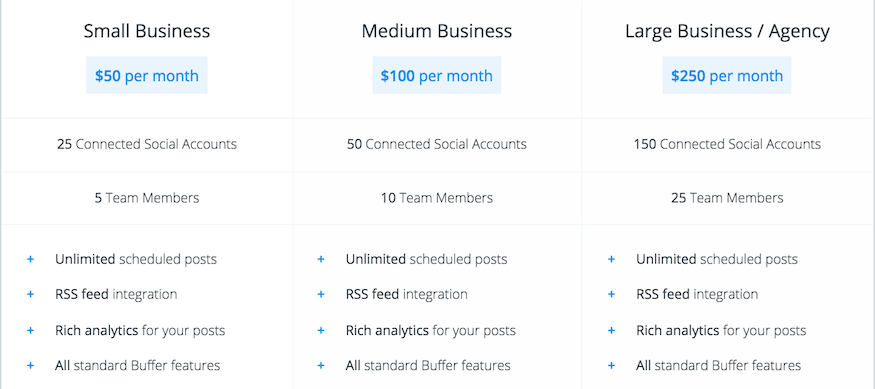 ---
Hootsuite
As a full-service social media management tool for businesses, Hootsuite offers a bit more in the bells and whistles department than Buffer.
Post Scheduling, Automation, and More
There is still the ability to schedule future posts and automate them to specific accounts, but Hootsuite's paid plans offer much more in the realm of ROI reporting, targeted social media marketing, and social customer service. If you are looking for a complete social media solution for all aspects of your company's online interactions, then Hootsuite would be the ideal choice.
Personalized Installation and Training
Hootsuite offers great support in the form of installation and training so your business can get off on the right foot and quickly attain social media mastery. Their team will even work with yours to guarantee a flawless integration with your existing software and technologies.
Fully Customizable Service
Hootsuite understands just how different your approach can be. If you are in need of assistance identifying an ideal platform or plan for your business, Hootsuite's customer support can help your business customize any available offerings.
Social Media Account Security
Social Asset Audit: Say goodbye to fraudulent accounts and threats to your publishing network. Hootsuite will actively protect your company-wide social media presence using a social asset audit. Publishing credentials are entirely customizable from user to platform.
Crisis Training and Simulation: Are you prepared for your accounts to respond to viral traffic? Hootsuite can offer training simulations that will test the effectiveness of your team's ability to deal with sensitive situations on social media.
Costs & Plans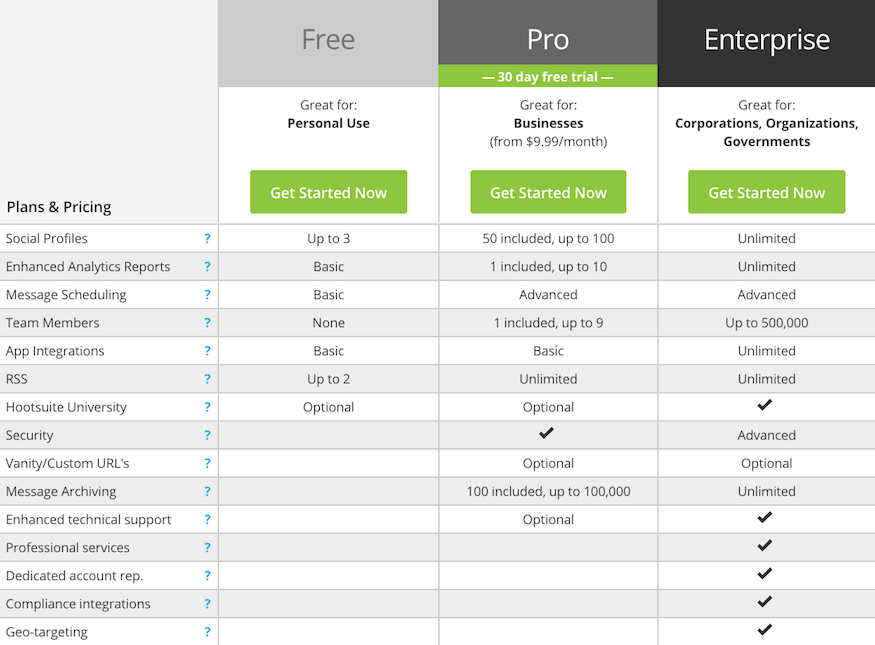 ---
Zapier
Makes You Happier
With a tagline like that, your expectations should be high. I will come out and say that Zapier has in fact made my life both happier and easier. The possibilities are simply endless.
Automate Everything
Zapier functions using some fancy API magic that allows you to "zap" away the items on your to-do list using integrations across the apps you use every single day. The user must designate "trigger" events that can automate a desired action on an entirely separate app or service from where the initial trigger event took place.
Basic Example: Many of my friends post their Instagram photos to Twitter. Unfortunately, Twitter and Instagram don't really get along. If you have ever posted an Instagram photo to Twitter then you know your tweet will only display a link to the post within Instagram, not populate the Instagram photo into an actual image Tweet. With Zapier, you can easily overcome this obstacle by setting up an "Instagram to Twitter" Zap. Set your trigger for Instagram to "New Media Posted" and your action for Twitter to "Create New Image Tweet."
With this helpful zap, whenever you take a new photo on Instagram Zapier will populate the image within your tweet, allowing your Twitter followers to view the picture without ever having to open Instagram.

Customer Service
Zapier provides stellar support for cross-application integrations with your most popular social media and online communications platforms. They'll even make personal recommendations based on the applications you use most frequently and provide suggestions for ways to better optimize your integrations and embrace automation. Here is a link to Zapier's Zapbook, including a list of some of the most common application integrations that can be performed using Zapier.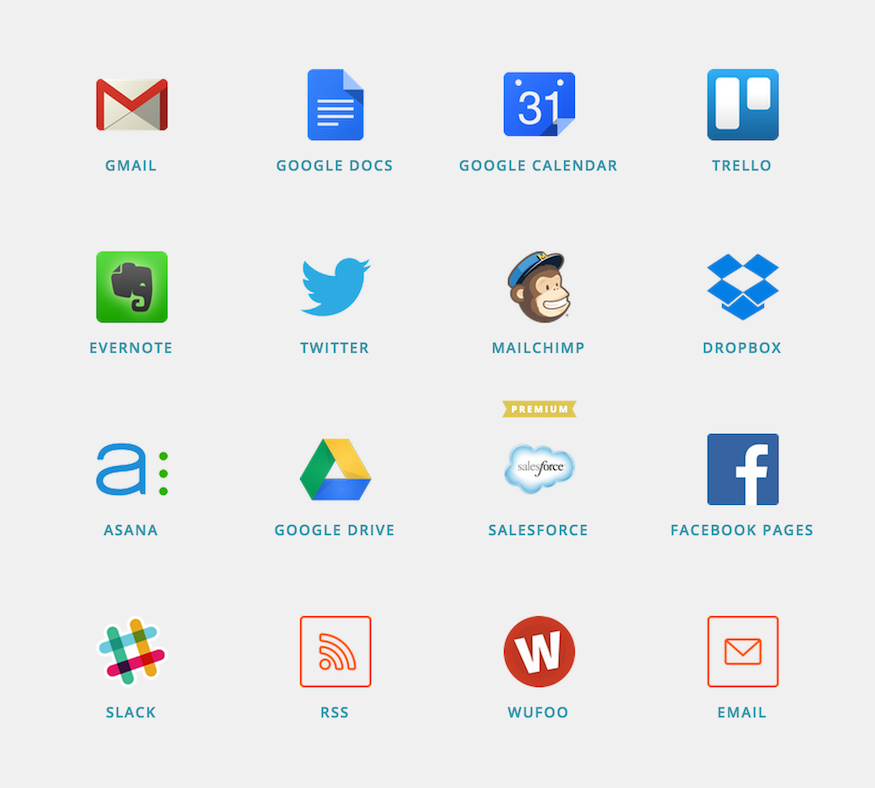 Costs & Plans
Zapier's pricing model offers both a monthly and annual plan for any size business. Zapier also offers a free plan for individuals who are looking to manage costs and test out the service (highly recommended).
Monthly Pricing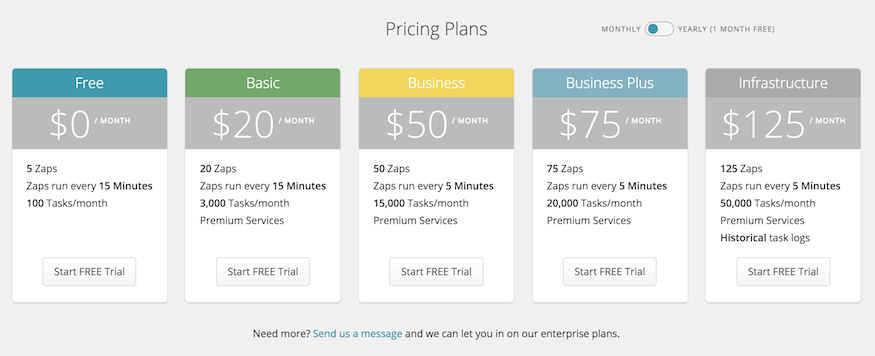 Annual Pricing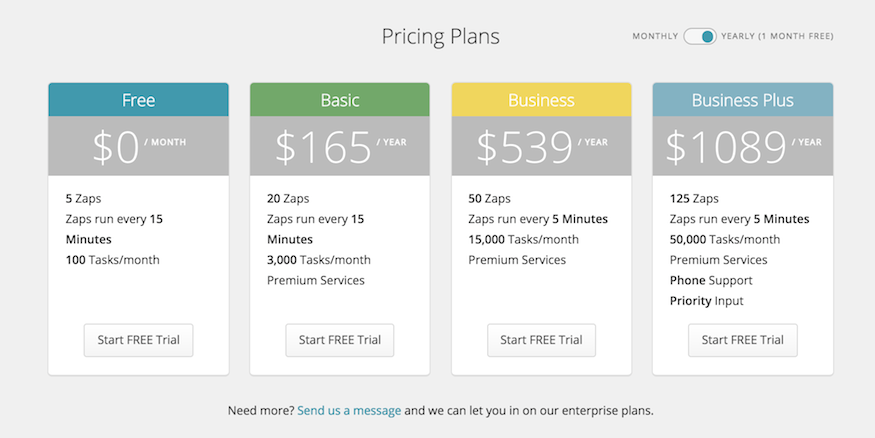 Ultimately, the emergence of social media automation tools like Buffer, HootSuite, and Zapier has made the task of managing multiple social media accounts even easier.
While it can be challenging, businesses must find a healthy balance between genuine human interaction and automation.
Remember, relying on these tools entirely can detract from the value and intent of your content if you fail to first understand your audience and your ideal times to post. Be sure to review the limitations and capabilities of each of these tools to find the right fit for your business' approach to social media.
Looking for new ways to connect with your audience online? Improve your brand's reach on social media to increase site traffic and grow your business!