<![CDATA[
Providing accurate citations for your business across the web on social media profiles, search engines, and local directory listings can guarantee NAP consistency, which is beneficial for both search engines and your customers.
What Does NAP stand for? NAP Consistency?
NAP stands for NAME, ADDRESS, and PHONE number. Your business' NAP CONSISTENCY refers to the accuracy of all listings for your brand across the entire web.
Why is an accurate NAP important for SEO?
At the end of the day, search engines are computers and we all know that computers are extremely detail-oriented machines. In order to build confidence in your brand, search engines must be really sure of who/where/what you are.
They rely on local listings sites, social media profiles, and other places around the web as signals for your business information.
Just one single inconsistency in your NAP across the web can hinder a search engine's confidence in your brand's location, contact information, or even company name.
Why is an accurate NAP important for your customers?
If a customer attempts to find your address or call a phone number using incorrect information on the web, it could make all the difference when deciding between your company or a competitor.
Additionally, the rise of mobile devices has increased local searches significantly. According to Google Trends data from March 2015, search queries that contain a location qualifier such as "nearby" or "near me" have doubled in the past year. Your customers are performing research on the go, and demand accurate local results as soon as possible to make a decision.
Many of the sites where your business can and should get listed also offer onsite reviews where customers can provide input on the quality of their experience. According to the 2015 Local Consumer Review Survey by BrightLocal, 92% of consumers now read online reviews for local businesses, and 97% of consumers aged 18-34 read online reviews to judge a local business.
For the sake of your customers, past and future, keep your information up to date everywhere your business NAP is listed on the web.
NAP Consistency is a Huge Problem for Local SMB's
The process of evaluating your business' NAP consistency across the web is not extremely difficult, however it remains a critical issue for small business owners in 2016.
In a recent survey of 500+ local search consultants and SMB owners from BrightLocal's webinar series, inconsistent citation and NAP (Name, Address, Phone) data was by far the most common issue, reported by 41%.
The problem is that most business owners have no idea where their business is listed online, let alone an acute awareness of any inconsistencies that may be out there.
How Did My Business NAP Become Inconsistent?
There are many reasons why your business information might have become inconsistent over time. Here are just a few:
Your business moved to a new address
Your business got a new phone number
Your business got a new zip code
Your business hired an SEO company in the past
Your business got a new domain
Your business has multiple locations
Your business had a location close
How Can My Business Improve NAP Consistency?
Your business can improve NAP consistency first by making sure the listings that are out there are accurate. This is a time-consuming process that requires the eyes of an extremely detail-oriented staff member. We'll discuss some tools in a minute that can contribute to your success.
Another way to improve NAP consistency is to increase the frequency of accurate mentions on the web by populating new listings.
Why Have Multiple NAP Listings?
Remember how we talked about websites providing quality signals about your business information to search engines? Well the more positive and accurate signals, the better.
Additionally, when your customers perform a branded search with your company name in Google, the chances of a competitor making it onto page 1 for your company name are a lot slimmer if the entire SERP is filled with your business listings.
Where Should My Business NAP Get Listed?
Your business should be listed anywhere your customers live online, with some exceptions.
Consider looking at your customer demographics and consumer profiles for insight into who they are and how they search for things online. Analyze your competition and find out where they are listed, then get your business information on those same sites.
Here are some of the types of websites that any business can benefit from being listed on:
data aggregators
local search engines
local blogs
social media sites
locally focused directories
industry focused blogs or directories
And if your business is located in the Omaha area, check out this list of Top SEO Citation Sources in Omaha, NE from Moz:
   Yellow Pages
   Journal Star
   Dex Knows
   Yelp
   BBB
   Superpages
   Manta
   Facebook
   Yahoo Local
   Omaha.com
You'll notice the Omaha local list includes search engines, social media sites, and even news publications. Be aware that some of these websites may require the completion of a profile and a payment for full verification.
In my experience, you don't necessarily need to pay for any of these services to make sure your information is accurate. You can create a user profile or business account and provide edits and suggestions. Depending on the site, your edits may not be made in real time unless you are paying for a verified profile.
What Tools Can My Business Use to Check & Maintain NAP Consistency?
There are a number of tools you can utilize to check and maintain your business' NAP consistency across the web, here are a few of our favorites:
Manual Spreadsheet Audit
Good old-fashioned data entry. Using Google or another search engine, find as many of your listings as you can find and import that information into a spreadsheet that can be shared with clients and collaborators.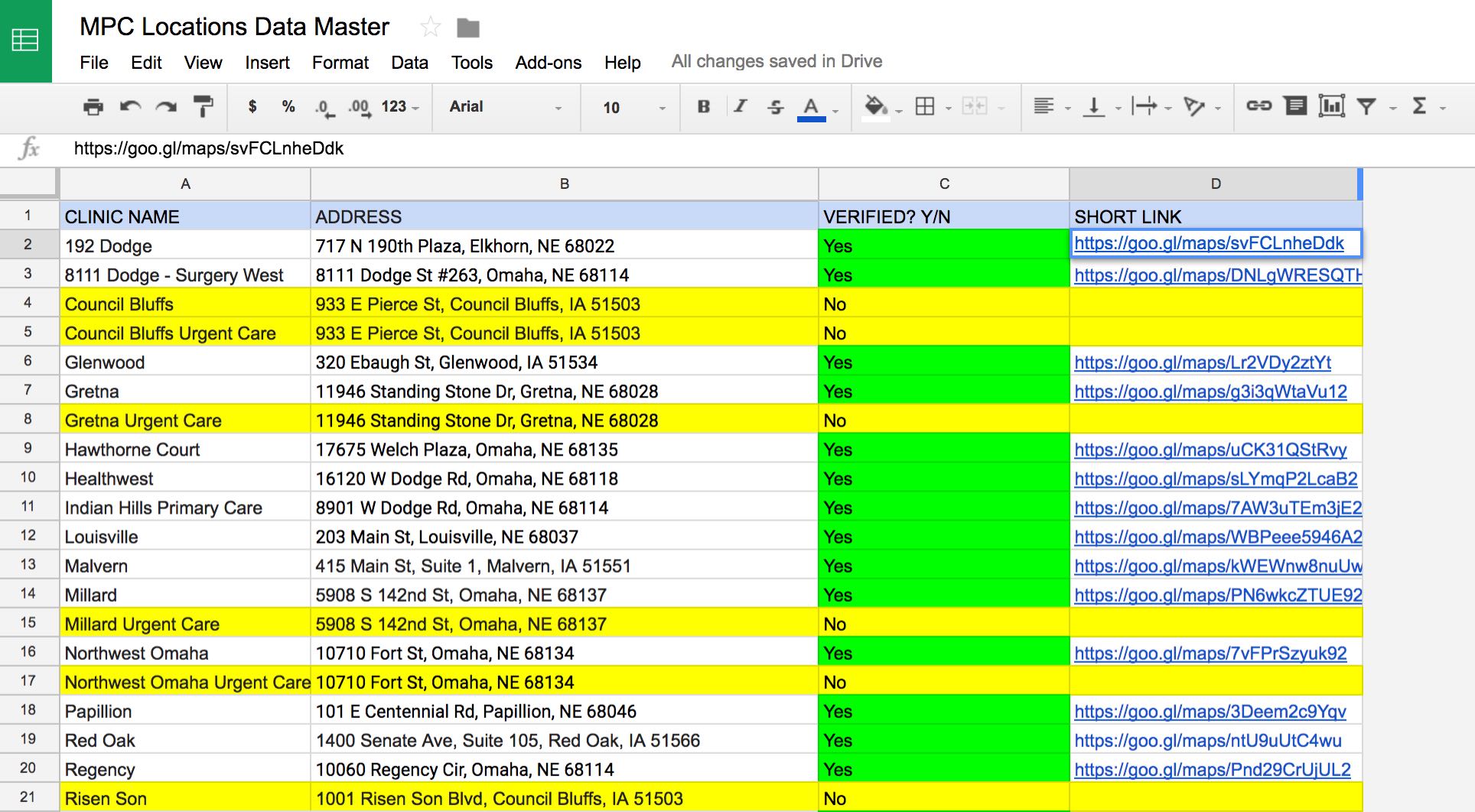 While it is nice to have an offline record of everywhere your business is listed on the web, populating this information manually relies on the accuracy of humans behind keyboards. Be sure to nominate the most detail-oriented member of your staff or team to perform this task.
Moz Local
Moz is one of the internet's most trusted sources for information related to search engine optimization, content marketing, and local search. Their Local tool offers an incredibly powerful free version and also a paid version.
What I love about the Moz Local tool is its ability to find hard links to any duplicate or incorrect listings across the entire web. Your business will receive a score based on the accuracy of your listings as well as recommendations about how to improve it.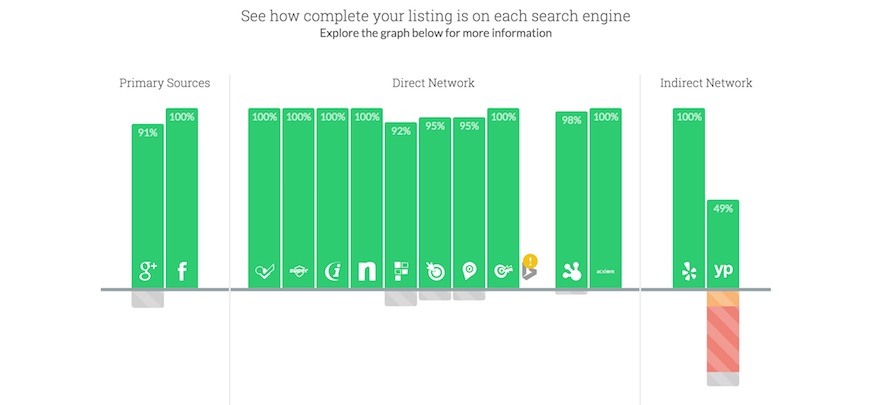 When we do site assessments for our potential clients, Moz Local is one of our most trusted tools for evaluating NAP consistency for any business. Try it out for yourself, the results may be shocking.
Yext
Yext offers a tool that is very similar to Moz Local. My experience with this tool is limited. Much like Moz Local, Yext's tool offers a full analysis of your business profiles across the web for free but requires a payment to perform any edits in bulk. Agencies even have the ability to white-label their scanning tool to integrate it into a lead generation tool for any website.
BrightLocal
BrightLocal is another local citation management software company that helps businesses manage their location data in some unique ways.
They describe their service as "a hybrid solution that combines manual, direct-to-submissions and or automated distribution via local data aggregators." Savvy SEO's will enjoy direct control and flexibility by only paying to submit to the networks they really want. Those that lack knowledge of how to build the right citations can use a prepackaged option with a bulk discount.

Does your business need help improving your local search visibility in the Omaha area? Correct any inconsistencies with your location data and provide immediate benefits for your customer search experience.