<![CDATA[
Don't tell the other projects, but this is my favorite one to work on.
I've learned to control the constants, but each year comes with its own challenges. Here is the condensed version of the process I go through and a few of the things I learned this year.
1. Start Early
Our client work takes priority over anything else, and because unexpected projects come up, I've learned to build in ample time to this process. I try to start the process during the last two weeks of September.
It all begins with a spreadsheet that includes our clients and their contact info for shipping. I give a list to each account executive, and they make sure the info is up to date. The spreadsheet tells me how many gifts we need to plan for and I add about 10 extra to the total to account for any new clients.
Even with all the planning in the world, things rarely happen that way. Sometimes the gift is stuck on a slow boat from China, or in my case this year, I ran into a brick wall with copywriting.
Takeaway: Go with the flow. Unexpected gifts at the New Year are almost better than expected gifts at Christmas.
When we rebranded a couple years ago, the timeline was delayed because we were working on our client projects and a search for the right packaging, so we pushed back the delivery date back. Since the gift was tied with the rebrand launch at the new year, a new year delivery date worked.
2. Brainstorm
Next step is to set up a short 30-45 minute meeting with a few of the C3Design team members to brainstorm. I keep a running list of ideas we've come up with in previous years to start the brainstorming session.
The gift is first and foremost a "thank you" to our amazing clients who we had the opportunity to work with over the last year. It is also an opportunity for us to be our own client and flex our creative muscles. We're given a budget and from there we let the ideas fly.
I presented our ideas from the brainstorming meeting to the entire team in a morning production meeting. This meeting resulted in a few more ideas, but no decision. That extra lead time isn't helpful if it's wasted on meetings that don't result in decision making.
This brings me to the next takeaway: There must be a decision maker. This may seem obvious, but until 2015 we didn't officially appoint one.
One idea wasn't loved over another this year, so I adjusted my thought process to come to present a theme and gift ideas from there.
3. Compromise
At this point I was still living in LA, so I was working remotely with the ideas that had been discussed back in Omaha. I took the best of what I was hearing from the team, identified any similarities, and integrated them into a theme.
Sometimes we come up with a theme first, and other times we come up with the gift and then the theme develops as we work with copy. This year, the theme came first.
I worked with Travis, the creative director, who gave me his feedback, and I made adjustments from there.
4. Build a Story
The theme we arrived at was "We Deliver."
In the brainstorming sessions Andrew started talking about using pizza delivery boxes as packaging for the gift. Then CharDale explained how the term "We Deliver" could have multiple meanings for us. We deliver for our clients to meet their business goals, but in relation to the project, our account service team also hand-delivers many of the gifts.
From that thought process, a foundation for a story and the look and feel of the packaging developed.
Inspiration came in the form of a 1950s postman and brown paper packages tied up with string. I thought about what we wanted our clients to feel when they received the gift. We agreed that our goal was to make clients feel a little of that holiday nostalgia and the trust that's associated with a postman.
I gathered images to create a mini mood board and sent a PDF to our sales executives. I suggested gift ideas, but I wanted the team as a whole to make the final decision.
Here's the next takeaway: No matter how clearly you think you're communicating, people bring their own experiences to the story and your brand. This is something to be embraced and not controlled.
Jeff, one of our account executives, loved the idea of the postman. Instead of gravitating to the "delivery" theme, he latched on to the concept of delivering "nostalgia." This threw me for a loop, but ended up making the gift better. From nostalgia, he came up with the idea of giving our clients Etch-A-Sketches.
The rest of the team liked the idea. Now I could start running.
5. Execute
Deep breath. There's a lot that happens during the execution phase.
Dan researched to discover pricing on the original Etch-A-Sketches, and I coordinated with the vendor to purchase and ship them to the office.
Thankfully the vendor was great and delivered as promised. I was in San Francisco when I ordered the Etch-A-Sketches, and I started writing copy when I was visiting New Mexico.
Like I said before, I hit a wall with the copy, because my brain was stuck in the "delivery" theme and the lyrics of "My Favorite Things" (brown paper packages tied up with strings) would not let go. It wasn't until I made it back to Omaha at the end of November and a conversation with Andrew shook me out writer's block.
The copy for the gift we came up with focused on childhood nostalgia and remembering a time in our lives when a creative tool didn't require charging. The tech we use today is not effective without the imaginations and critical thinking skills we developed as kids. It's nice to put aside the electronics a bit and go analog.
The takeaway from this experience: Listen to your gut.
I work on ParentSavvy, and I like to say I'm a big kid because I spend a lot of time trying to think like a kid—creative and wonder-filled. But in this case, I kept reaching for an idea that was grander. Screw it. Go with what you know, and who you are. It ends up sounding better.
After the copy was approved, the last thing we had to decide was if we were going to create an online landing page.
A large portion of our work is web-focused and I didn't want to pass up an opportunity to show off this skill set. I decided that a web piece could serve as marketing for us as well.
The decision to move forward with the landing page relied on our ability to stay productive and on schedule with other client work. Thankfully we had enough free time to pull it off this year.
I do my best to keep the gift a gift and not a marketing piece, but there was a natural progression from thanking our clients for allowing us to create with them in 2015 as part of the physical gift to asking them what we could help them create in 2016 on the landing page. It's a soft ask.
So after another conversation with Andrew, we came up with the concept "what will you create?" to drive the landing page.
I sent an email to the team asking them the question "If you didn't have to worry about time, resources or physics, what would you create?"
They didn't know what the question referred to, but the answers they gave were clever and childlike further supporting my "go with your gut" takeaway. We even asked a couple of the team's kids to answer the question as well.
Matt picked a few of the answers that were easy to translate into SVG's, and designed the landing page. Keeping it as simple as possible to use our time wisely. He sent the design over to Andrew who knocked the project out of the park.
I'm really proud of the landing page, so go take a look! Do it. You know you want to. Then tell us what you want to create this year, and how we can help you. (That was more of a hard ask.)
While the landing page was being constructed, we started putting together the physical gift. Travis took the copy and created a graphic on silver paper to match the Etch-A-Sketch screen. He was able to develop line art that looked like Etch-A-Sketch drawings too.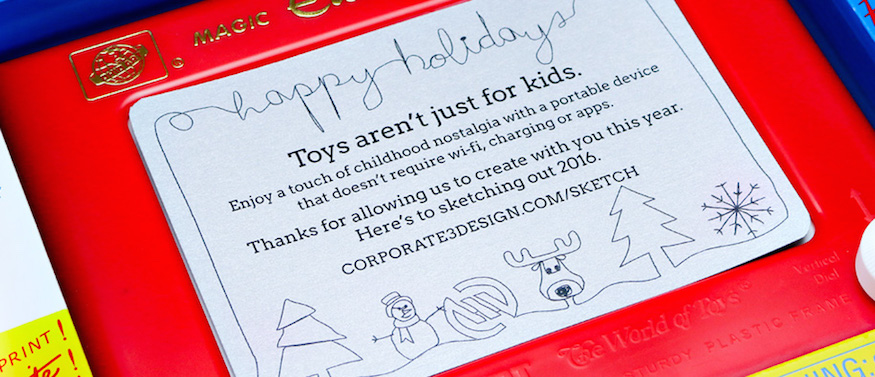 Travis also created these amazing, custom tags. Each one was created with two pieces of chipboard backed up to one another, cut out and added a grommet for good measure.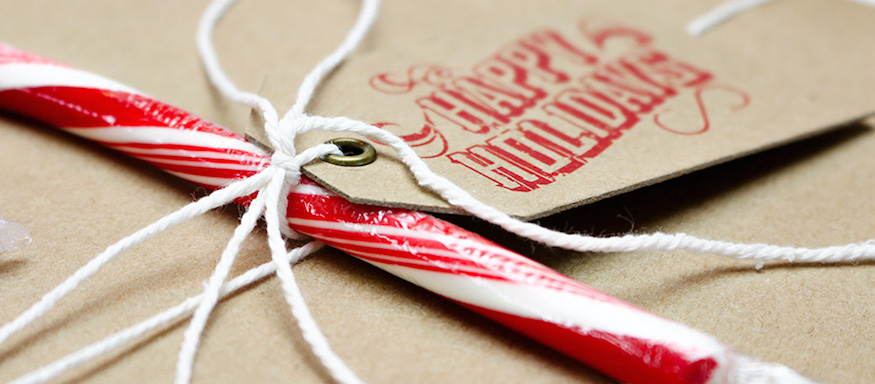 Several of us took part of a day to sticker the graphic to the front of the Etch-A-Sketch, wrap each one in brown paper, tie it with string and finish it off with the custom tag and a holiday appropriate candy cane. It was a good amount of work. It never would have happened without the team that I work with. They are my favorite part of this job.

The gifts were boxed up for each account executive to deliver to their clients. I boxed up the the ones that needed to be mailed and took them to FedEx.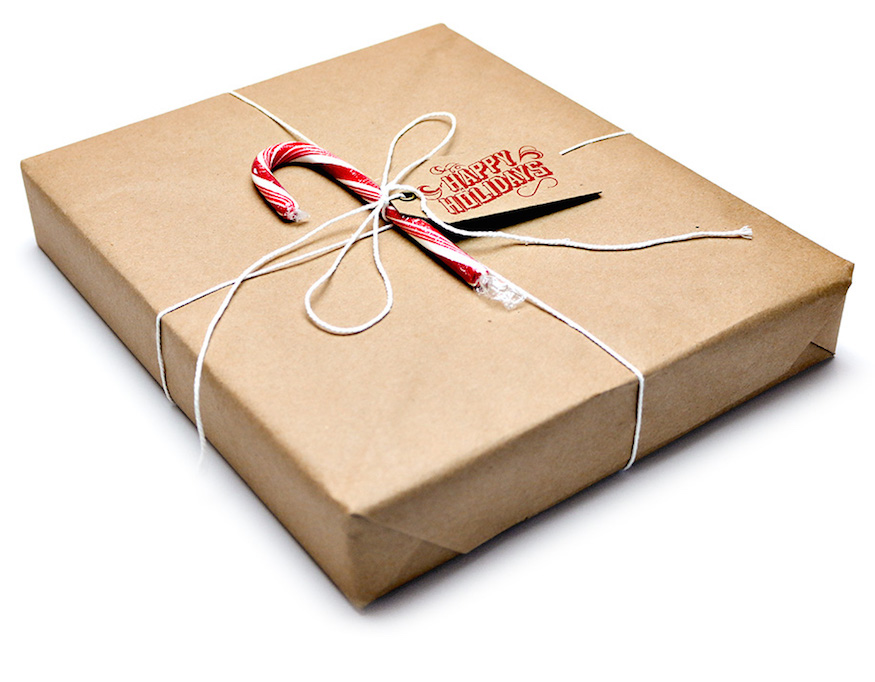 This year taught me a lot about managing a project. I did a lot of things right: I started early, and created a mood board to communicate clearly. For future projects: I will make decisions sooner, talk to my team when I hit a roadblock and trust my instincts.
Implementing what I know worked and changing what didn't work should make future projects run easier.
Do you want access to more behind-the-scenes content like this? Subscribe to our C3D email newsletter for a bimonthly installment of marketing news, business tips, music playlists, and full-length tutorials delivered right to your inbox!