<![CDATA[
Why Should You Verify Your Business Page on Facebook? Your business will show up higher in search results
This is the primary benefit which we tell clients about when it comes to page verifications. For a process that only takes minutes, it could have an incredible impact on your page's traffic within Facebook's own search engine.
Your business will let visitors know the Page is authentic
For larger brands, this is paramount to success on social media. Tell your customers who is the real you and avoid any confusion that may be caused by fake profiles and spam accounts.
Your business will not be charged
Many local directory sites will ask for a monthly fee or annual payment to list your information–not on Facebook. Whether or not your company is active on Facebook, taking full advantage of the free tools at your disposal to promote your business and expand your social media reach is highly recommended.
Is Your Business Eligible for Verification on Facebook?
If your Page's category is listed under "Local Businesses" or "Companies & Organizations" your Page may be eligible for a gray verification badge.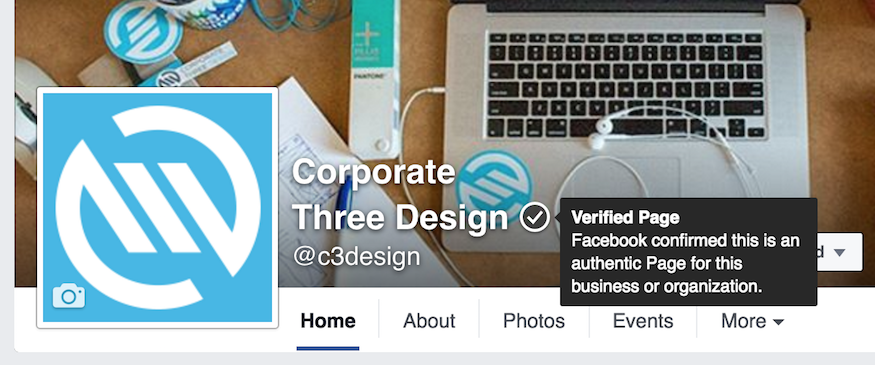 Learn more about using Facebook Page categories
If you're an admin, your Page has a profile picture and cover photo, and is eligible, you'll see a verification option in your Page's Settings.
How To Verify A Business Page on Facebook
There are two ways to verify your company's business page on Facebook: either by phone or by uploading official business documents.
1. Phone Verification
The easiest way to verify your business page is with Facebook's phone verification process. First, make sure the contact number on your page's About section is correctly listed. This is the number Facebook will call.
Remember, the presence of inconsistent contact information on the web can actually hinder your brand's NAP consistency and in turn, your site's organic search visibility.
To verify your Facebook Page with a phone call:
Click Settings at the top of your Page
From General, click Page Verification
Click Verify this Page, then click Get Started
Enter a publicly listed phone number for your business, your country and language
Click Call Me Now to allow Facebook to call you with a verification code
Enter the 4-digit verification code and click Continue
In some cases, the phone verification process will be (almost) instant. Typically, you can expect to receive a notification about your verification status within 24 hours.
2. Document Verification
An alternative method for business page verifications involves uploading official business documents directly to the Facebook website.
To verify your Facebook Page using business documents:
Click Settings at the top of your Page
From General, click Page Verification
Click "Verify this Page with documents"
Upload picture of official document showing your business name and address
The business document verification process is typically complete in few days after Facebook matches your official business documents to public records for confirmation. While it is a bit slower than phone verifications, it still works great.
What About The Blue Checkmarks?
You may have noticed blue check marks on the pages of some of your favorite movie stars or news publications. These verification badges are only granted to pages that represent celebrities, public figures, sports teams, media or entertainment properties.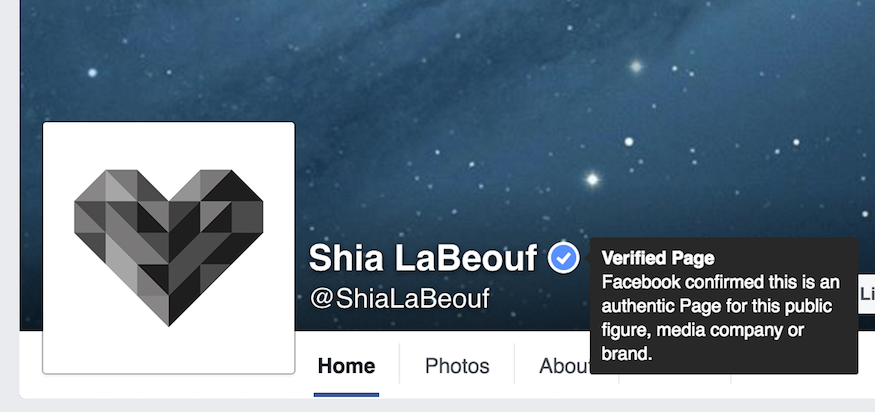 Facebook has a separate verification process for these badges. To find out if one of the pages you manage is eligible for a blue verification badge, fill out this form.
Looking for new ways to connect with your audience online? Improve your brand's reach on social media to increase site traffic and grow your business!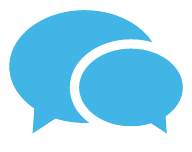 We work with businesses that are not afraid to take the next step.
Let's put your marketing and website to work.