<![CDATA[
Google recently announced the Google Daydream, in many ways its spiritual successor to Google Cardboard. If you're not familiar with either of these things, let me catch you up.
Google Daydream is a pillowy, high-tech headset you strap to your face that pairs with your smartphone to create a lo-fi virtual reality experience. It's not out yet, and it costs $80 to pre-order Daydream.
Google Cardboard is sort of the same thing, except less high-tech and comfy, since often it is literally made of cardboard.
Google Cardboard is a platform that Google released that allows anyone to design and build a Cardboard headset—meaning there are a number of headsets to choose from. A Google Cardboard headset typically costs somewhere between $8 and $40, and sometimes you might be given one as free swag at an event.
Welcome to the Wild West of Virtual Reality

Google wanted Cardboard to make VR storytelling accessible for everyone, and made it as easy as possible for manufacturers to design and sell their own versions. While this was a neat idea in theory, it resulted in a sort of wild-west marketplace for Google Cardboard headsets.
Finding a device that fits your smartphone and meets your VR expectations at a decent price-point can be dizzyingly complicated shopping experience, one that I waded through over the last year or so.
Google Cardboard is still the least expensive and most available VR platform around, and it looks like Daydream plans to build on that to make something greater. But maybe before you plunk down $80 for a Daydream, you want to explore the Cardboard market a little bit to even see if it's for you? I'm here to help.
Best and Worst Google Cardboard VR Headsets
Here are my impressions of three different Google Cardboard headsets I've bought and used over the last two years.
Unnamed Google Cardboard headset (made of actual cardboard)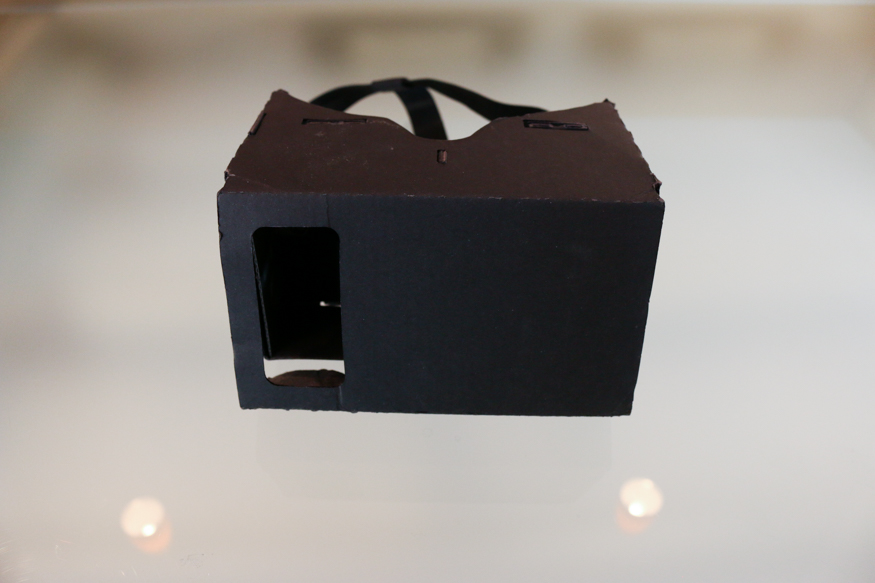 Wait, why is it unnamed?
This headset model does have a name, since it has an official Google Cardboard headset QR code. But that name is not marked anywhere on the product itself, and the Amazon product page where I bought it from is now shows an entirely different headset.
Also the official QR code is printed on the headset exactly where the elastic bands included with it need to be attached, so that's also lost forever. Annnnnd welcome to the confusing world of Google Cardboard headsets.
The good news is that if you want to buy a headset like this, there are hundreds of options virtually identical to this one, most for $10 or under.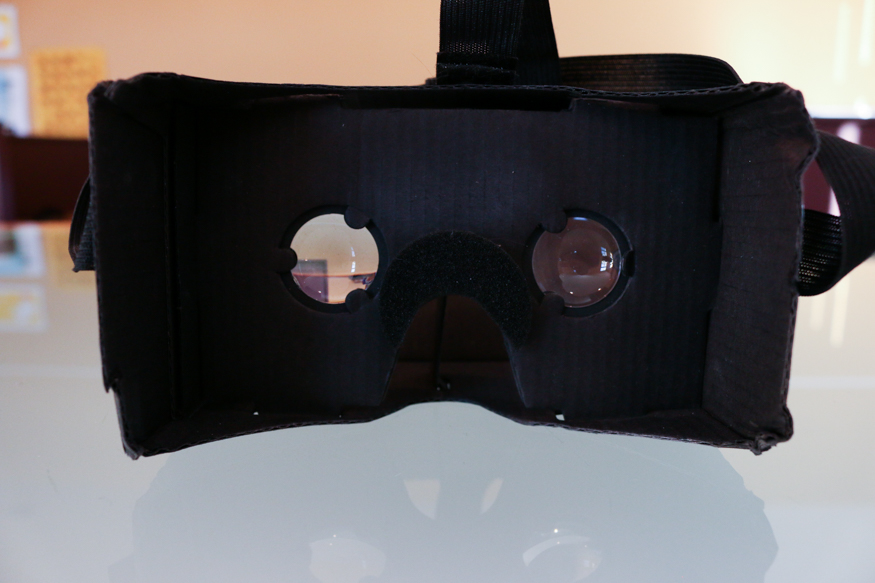 All that said, this is first and most practical headset I bought. It doesn't look like much, and after over a year or so of intermittent use, it is pretty much falling apart, but it got the job done.
It was inexpensive, it fits most people, you can wear your glasses underneath it, it has head-straps, it came with a little padding for where your nose goes.
There are two big downsides of the made-of-cardboard headsets like this one. For one, they're not great at blocking out the light from outside the headset, which can be distracting. More distressing is the fact that they're not very good at securing your phone to the inside of the headset.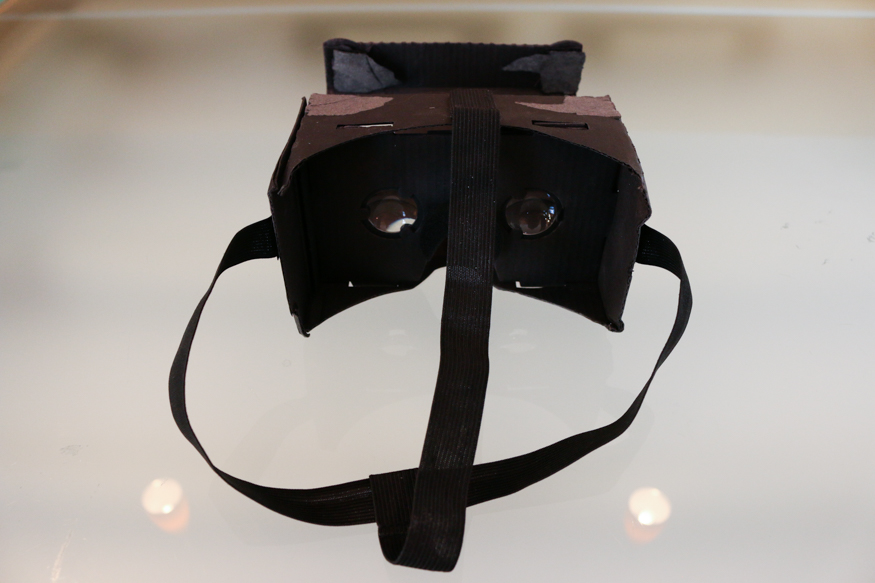 These headsets were designed to be held in your hand. Adding head-straps can may them a little easier to use, hypothetically let your hands use a controller or something, but without your hands holding the headset to your face, your phone can easily slip around.
Best case scenario, this makes your view go out of whack for a moment until you can re-center your phone. Worst-case scenario, your phone can fall right out.
Price: 5/5
Durability: 2/5
Usability/Design: 3.5/5
Average rating: 3.5/5
Verdict: If you just want to dip your toe in the VR waters, a headset like this a great place to start. For $10, you can see if this is something you're interested in at all, and you'd be surprised how good of a VR headset a glorified cardboard box can be.
Destek V1 Headset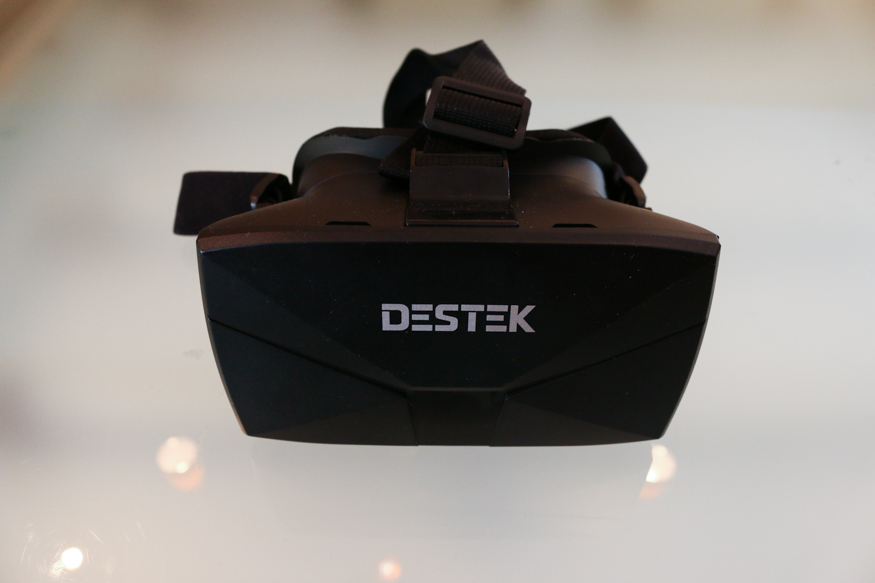 Technically speaking, this is not called the Destek V1 headset. I got this one as a gift last year, and at the time it cost about $40, and I'm not even sure it was sold under the Destek name. But that's who made it, and now there's a Destek V2 and Destek V3, so I'm extrapolating a bit.
On the exterior, the Destek headset looks like the natural step up from a basic cardboard headset. It looks like the sort of sleek, fancy box you should strap to your head if you want to join the VR future-lifestyle. It's not. It does try to solve some of the issues of the more basic headsets: Your phone is entirely enclosed, it has soft padding for your face, and sturdy head-straps to keep it on your head.
But for everything the Destek V1 gets right, it gets two things wrong.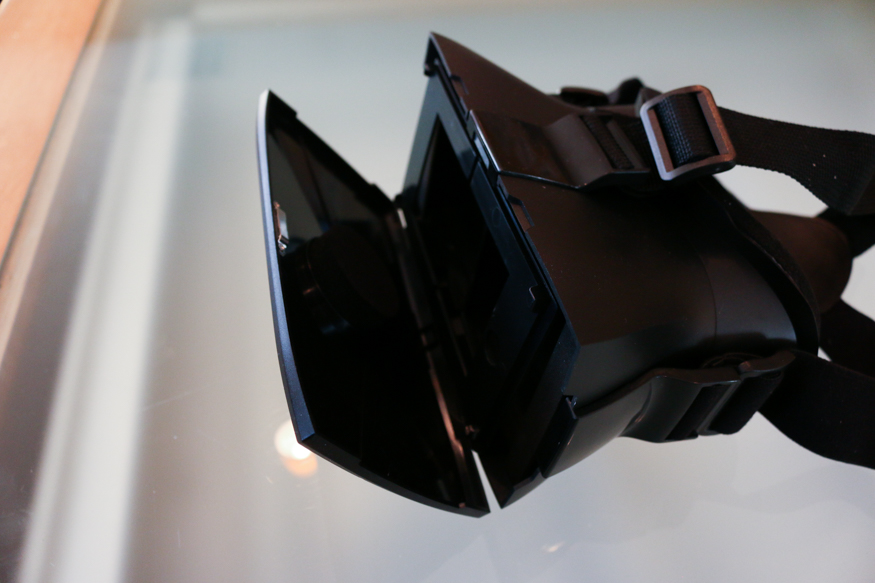 There is almost nothing inside the headset to secure your phone in place short of a small foam pad. The nicely cushioned viewport is too small and form-fitting to wear glasses underneath, and there's no way to change to focal length to compensate. While there is a hole for headphones to plug into your phone, it was not large enough to accommodate the headphone jack on my iPhone 6S Plus.
But what really KILLS this headset is the lack of a clicker.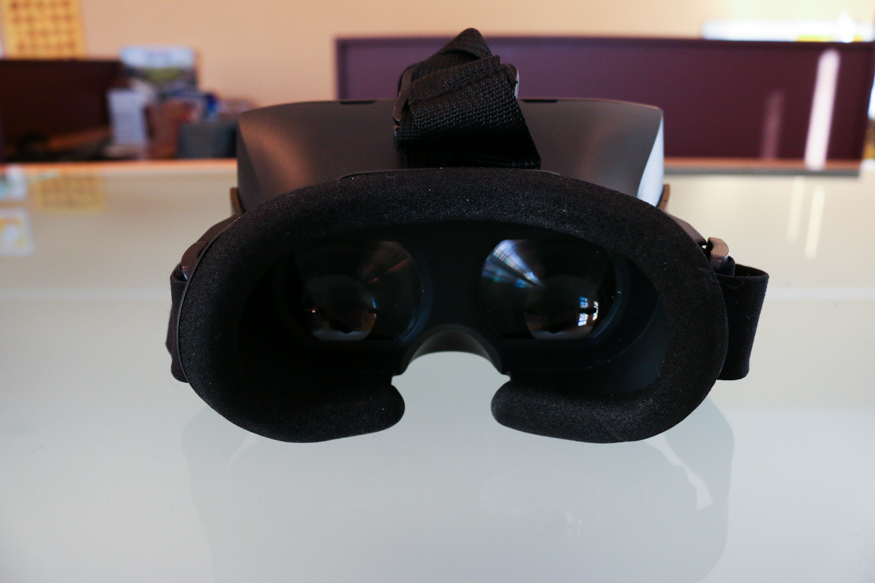 Google Cardboard sets are supposed to have a magnetic button on the side of the headset, allowing you to interact with compatible apps while your hands are busy holding the headset.
For reasons I don't fully understand, Destek felt that feature was unnecessary, and chose not to include it on this headset. (Destek has since added this feature, as well as focal length adjustment with the V3, but I have not yet felt inclined to roll the dice with them again.) What that means is that any Google Cardboard app that requires a clicker (roughly 60% or so) is LITERALLY UNPLAYABLE.
Price: 2/5
Durability: 4/5
Usability/Design: 0/5 LITERALLY UNPLAYABLE
Average rating: 2/5, but really it's a 0/5
Verdict: The Destek V3 might be OK, and boasts a lot of features for $30 these days. So if you feel bold, maybe that's worth a shot. But the V1 is/was pretty much a brick. Be wary of hastily designed, cheaply manufactured headsets.
View-master VR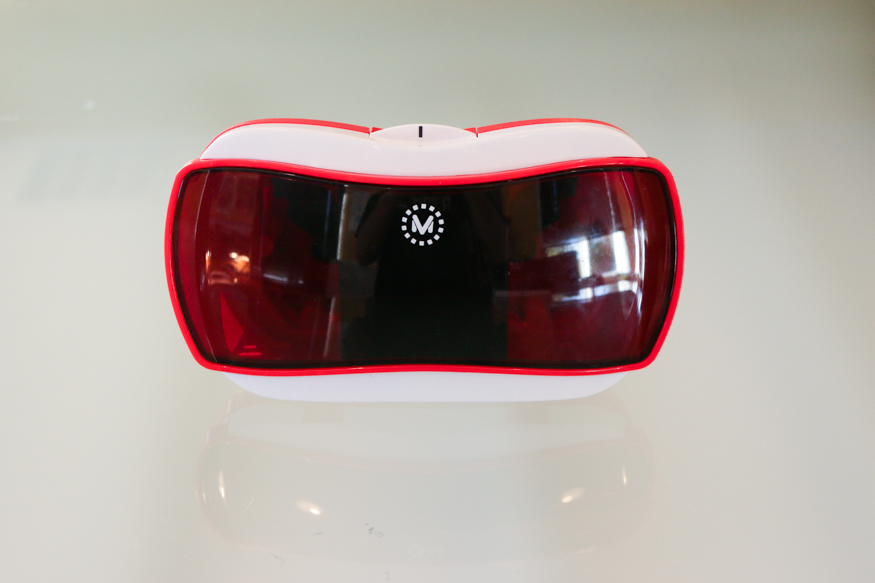 So, as if Google Cardboard wasn't confusing enough, one of the best headsets on the market right now is not primarily marketed as such.
If you were casually searching for Google Cardboard you might not immediately find the View-Master VR headset, and if you were browsing toys and came across it, you might not immediately realize it was actually Google Cardboard compatible.
Which is a shame, because for $20 you can't find a nicer headset at the moment.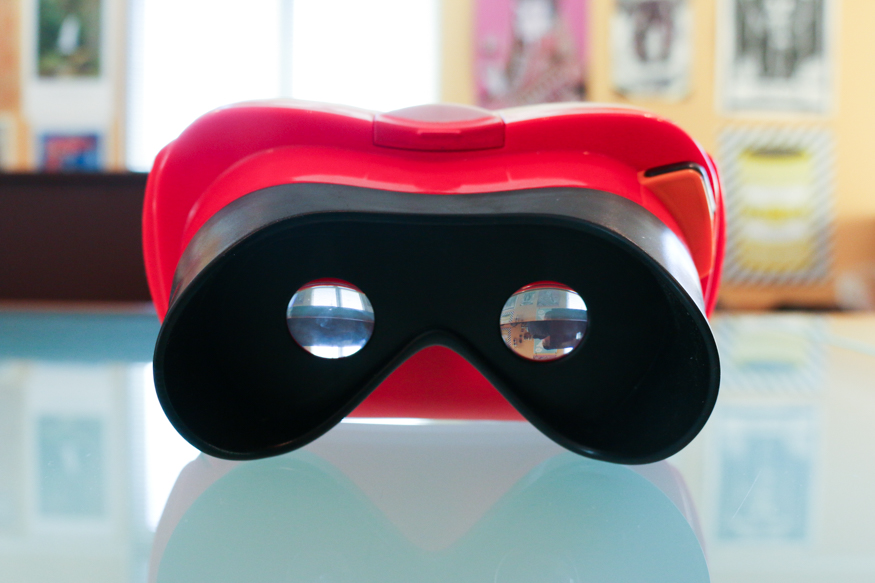 There's a now newer, 'deluxe' version, that appears to be a minor improvement and tweaking. Mattel has designed and largely marketed the new View-Master as its own self-contained toy system, but it is 100% a Google Cardboard headset.
Mattel makes it's own apps designed to be used with the headset, but these apps are generally not that exciting, despite having some fun ideas. I bought the View-Master VR and promptly ignored all of the accessory packs, and have just been using as my primary cardboard headset. It does a solid job.
The View-Master VR has two primary advantages: durability and design. 
First of all, it's built like a tank. This was designed to withstand the abuse of small children, and it shows. It's made of sturdy plastic, it comes with a hand-strap, and there is an impressive mechanism inside the headset that holds your phone firmly in place no matter what size of a device you have.
There's a soft-plastic viewport which blocks out light well, but still doesn't allow for glasses. It hasn't been an issue so far.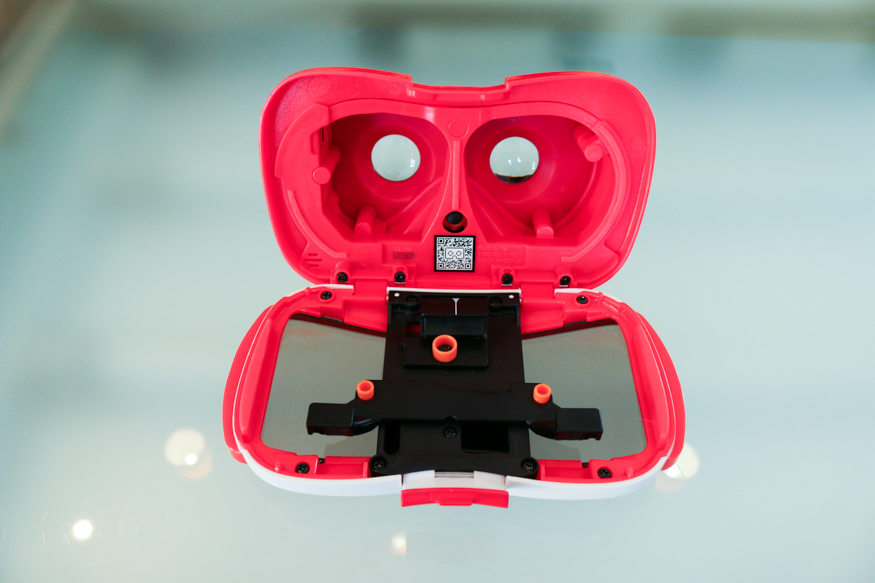 One clear downside that it has no accommodation whatsoever for a headphone jack. Either your friends hear whatever you're listening to, or you need bluetooth headphones.
Also there's no head-straps at all, so you'll need to hold the viewer the entire time, regardless of whether or not the content you're viewing requires your input. Downsides, certainly. But probably out-weighed by the quality of product you're getting.
Price: 4/5
Durability: 5/5
Usuability/Design: 3.5/5
Average Rating: 4/5
Verdict: If you want a reliable cardboard viewer that ticks most of the boxes without breaking the bank, as well as one that you can not worry about breaking or not fitting your smartphone, this one is hard to beat in terms of price.
Are you interested in discovering what virtual reality can do for your business? Subscribe to the C3D email newsletter to keep up with the latest trends in advertising and technology.